How Innovative Technology Is Changing the Commercial Brokerage Game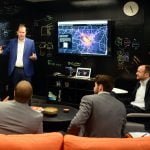 Technological advancements continue to trickle their way into more industries. One industry that continues to implement innovative programs and applications is commercial real estate. Matt Felton, President & Founder of Datastory, MacKenzie's location intelligence partner, discusses how data-driven applications and cutting-edge technology provides greater insights for commercial brokers and skyrockets company growth.
Detailed Data Provides Insights on Valuable Trends
As a competitive, full-service commercial brokerage firm, MacKenzie understands the importance of data-grounded decisions, clear communication, and proactive thinking. That is where Datastory comes in. Datastory is pushing beyond the limits of traditional GIS mapping (geographic information systems) to find hidden patterns in data that elevate the location intelligence. For companies like MacKenzie, this brings a differentiating advantage to the entire team.
"Datastory puts data, analytics and apps at the fingertips of decision-makers," says Matt Felton, President & Founder of Datastory. "This enables real estate professionals to go beyond their instincts and familiarity of local markets through understanding supply-demand relationships." Datastory provides detailed information on consumer behavior, business and demographics, as well as locational context about policies or changes in current events such as COVID-19. With accessible data, commercial brokers have the ability to make decisions with key metrics in mind.
"Decision-making…begins by interpreting data through experience (intuition), filtering it through values (judgement), and synthesizing it into business decisions (execution)," says Felton. Insights provided by companies such as Datastory allow you to gather additional information relevant to your desired target market and synthesize these insights to share with relevant stakeholders. Felton says, "This powerful combination results in better business decisions faster, with confidence."
GIS Technology Produces Near Real-Time Solutions During COVID-19
In the midst of the novel coronavirus, almost every industry has been impacted emotionally, physically and financially. Businesses must now think on their feet, pivoting to ensure their company remains secure throughout this pandemic.
"Survival will depend on making informed, difficult decisions quickly," says Felton. This means that relevant, real-time information is crucial for businesses to stay aware of changes in purchasing habits and sentiments of their local communities.
Not only does innovative technology such as Datastory provide solutions for the current climate, these insights ultimately offer a strategic advantage for future company growth. "Datastory is curating and combining new types of data related to COVID-19, human movement patterns, and social media sentiment," says Felton. These solutions provide a deeper understanding of consumer behavior for commercial brokers, giving them the confidence to work with their clients during this time of need.
A Location Intelligence Platform That Helps MacKenzie Stand Apart
At MacKenzie, it is our job to provide clients a competitive, full-service platform across the Mid-Atlantic region. When fueled by a location intelligence platform such as Datastory, companies can think outside the box, providing innovative and data-driven solutions to internal and external stakeholders.
"Datastory's location intelligence platform helps MacKenzie find and synthesize a vast amount of information very quickly," says Felton. This helps our team create and communicate a relevant strategy to our clients, setting us apart from other commercial brokerage firms in the area. "MacKenzie brokers who have learned to harness this powerful combination are differentiated from their peers who typically rely on instinct."
As it relates to business, Felton explains that real estate decisions are often vital to the success of a business. Therefore, gaining a comprehensive understanding of the local consumer base will ultimately drive success. Felton says, "experiencing data in context reveals otherwise hidden relationships that leads to an understanding of why something is, not just where it is. The team at MacKenzie Commercial Real Estate is dedicated to understanding the "why" behind every decision that is made and are using Datastory to help guide us there.
MacKenzie Commercial Real Estate is Prioritizing Innovative Technology Solutions
From brokerage to development and contracting, the team at MacKenzie offers many solutions for your business needs. To learn more about data-driven technology, Datastory, or to speak to one of our team members, contact us today. To learn more about MacKenzie's Brokerage Division, click here.
We are proud to serve the Mid-Atlantic region with offices in Baltimore City, Baltimore County, Harford County, Howard County, and Annapolis.