Baltimore Restaurant Concept Expands to Chain-Driven Market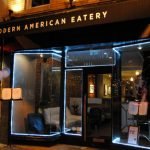 MacKenzie Retail, LLC is proud to announce that popular, Hampden-based restaurant, Alchemy, will be opening a second location, Alchemy Elements, at Bel Air Town Center in Harford County. This new location represents a growing interest among local concepts desiring to expand to suburban markets traditionally dominated by national chain restaurants. Alchemy will move into the vacant 3,070 square foot space formerly occupied by the Open Door Café.
"Bringing a local concept such as Alchemy to Bel Air is a testament to the county's support of small, independently-owned businesses," said MacKenzie Associate, Laura Williams. "Alchemy offers patrons a sought-after experience of fine-casual dining and is a welcomed addition to Bel Air Town Center." Williams, along with Executive Vice President Tom Fidler, Jr. assisted with the transaction.
Since opening Alchemy in Hampden, husband and wife duo and Harford County natives, Sommelier Debi Bell-Matassa and Chef Michael Matassa have longed for an additional location, in Bel Air. Building on the thriving success of the restaurant, Bel Air's location will feature a similarly creative and flavorful infused menu, in addition to a newly crafted upscale, lite fare mix. This is what excites Chef Michael the most, a menu option he has not yet been able to execute at Alchemy's smaller layout in Hampden. Chef Michael was recently named Maryland's 2015 Chef of the Year by the Restaurant Association of Maryland, an award that recognizes standards of excellence, inspirations to others, dedication to the artistry of food, and ongoing commitment to their communities.
"We are beyond thrilled to fulfill our dreams of having more than one venue and what better place than our home town," stated Sommelier Debi. "Originally planning to open in Harford County, our search took us to Baltimore for which we are forever grateful. We look forward to bringing the county our art for creating wonderful meals and experiences. We are excited to be home, too."
Located in the heart of Bel Air in Harford County and owned by McGill Development Limited Partnership No.3, Bel Air Town Center features some of the strongest demographics in the area. The 90,000 square foot (sf) retail center, comprised of two strip centers and three pad-sites, stands at the Northbound crossroads of Route 1 (Baltimore Pike) and Route 24 (Vietnam Veterans Memorial Highway). Alchemy joins regional favorites Liberatore's, Woodlea Bakery and CR Wings, along with national chains Chili's, Taco Bell, Subway and T-Mobile.
For more information on Alchemy, please visit www.alchemyon36.com. For leasing inquires contact Laura Williams of MacKenzie Commercial Real Estate Services by email at lwilliams@mackenziecommercial.com or by phone at (410) 494-4864.
###
MacKenzie Ventures, LLC (MacKenzie) possesses the multi-disciplined team necessary to excel in Maryland's corporate real estate community. Comprised of seven firms, MacKenzie provides clients a competitive, full service platform of offerings in leasing, sales, investment sales, tenant and landlord advisory services, corporate and business consulting, commercial and residential development, general construction, property and asset management, debt and equity capital placement, and market research. With more than 150 employees and offices in Annapolis, Baltimore, Bel Air, and Lutherville, Maryland, MacKenzie is one of the largest full service commercial real estate firms in the Mid-Atlantic. Please visit www.mackenziecommercial.com for more information.