Highly-Anticipated Restaurant Breaks Ground in Abingdon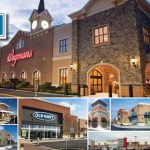 ABINGDON, Md. – Boston's Restaurant & Sports Bar (Boston's), a casual-plus dining concept that combines two experiences under one roof, announced today that their newest location in Abingdon, Maryland has officially broken ground. Located at 3459 Merchant Blvd. in the Boulevard at Box Hill Shopping Center, Boston's will offer the perfect place for local community members to enjoy great food in a lively, sports-driven atmosphere. The restaurant has a unique design that separates the dining experience from the bar area, making it ideal for families and sports fanatics alike. The family-friendly setting and energetic bar scene will also boost the local economy with the creation of 50-70 jobs.
With a projected opening date of October 2015, the Abingdon location's distinctive dual offerings will give guests the ability to choose from more than 90 different menu offerings, including gourmet pizzas, pastas, burgers, wings, gluten-free items, and a variety of specialty dishes such as salmon. The Abingdon location will cover 6,620 square feet including the sports bar with expansive beverage offerings and multiple large flat screens for local sports games and other events and the outdoor patio seating.
"We are excited to have Dr. Asante select the Boulevard at Box Hill as his first location. Boston's will bring another great menu offering to the local market, and meets Ward Properties' commitment to bringing new and exciting concepts to the project," said Tom Fidler, Executive Vice President of MacKenzie Retail, LLC who represents the ownership in the leasing and tenant development, along with his partner, Laura Williams. Dr. Asante was represented by Scott Yurow of H & R Retail.
As the owner of the Abingdon location, Dr. Keith Asante will oversee the restaurant on a broader scale while his two business partners will run the day-to-day operations at the restaurant. Born and raised in Ghana, Dr. Asante was the CEO and President for an IT company in the Baltimore area for more than 10 years. He is also a Professor at the University of Maryland. Previously a part-time chef in the army, Dr. Asante has always had a passion for food. After researching Boston's and visiting the other Maryland Boston's location, Dr. Asante found two reliable partners to join his endeavor and they moved forward with the signing of the five restaurants together.
"The Abingdon community is the perfect place to open my first location and we are really looking forward to bringing our unique dining experience to the area," said Dr. Keith Asante, owner of Boston's of Abingdon. "I am confident that Boston's will exceed people's expectations of a casual dining experience, not only with the quality and taste of our food, but with the unique atmosphere that we create for our guests."
In addition to the Abingdon location, Dr. Asante has also signed a deal for four additional units in the Baltimore area including locations slated to open in the city of Baltimore, Baltimore County and Harford County. All in all, these five restaurants will add more than 50 jobs to the local economy and will provide residents a unique dining experience with its distinctive menu design and large, modern restaurant layout.
The company currently has 27 locations operating in 22 states and 8 locations in Mexico. The brand recently signed multiple agreements for continued expansion in Mexico which will bring the total number of Mexican units to 26 by 2018. The company's sister brand, Boston Pizza which is celebrating more than 50 years of service, has more than 375 locations throughout Canada and is considered the No. 1 casual dining brand in the country.
About Boston's Restaurant & Sports Bar
Headquartered in Dallas, Texas, Boston's Restaurant & Sports Bar offers a contemporary, sit-down family dining atmosphere with a separate sports bar customized with local team memorabilia. The result is a fun, high-energy setting for families and sports enthusiasts alike. While Boston's specializes in gourmet pizza and pasta, its menu features nearly 90 items including salads, sandwiches, and a variety of sports bar favorites such as burgers, wings and ribs. With annual system wide sales approaching $1 billion, Boston Pizza and Boston's have more than 390 outlets throughout the United States, Canada and Mexico. For more information on the Boston's franchise opportunity, visit www.bostons.com/franchising/. For the latest news on Boston's Restaurant & Sports Bar visit www.facebook.com/BostonsNational or follow Boston's on Twitter at www.twitter.com/BostonsCorp.
CONTACT: Julianne Kennelly, Fishman Public Relations, (847) 945-1300 x239 or jkennelly@fishmanpr.com