MacKenzie Capital Welcomes Brendan Harman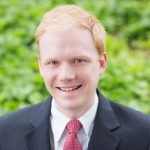 MacKenzie Capital, LLC is pleased to announce the addition of Brendan Harman as the newest member of their team. As an Assistant Vice President, Brendan will assist Principals John Black and Glenn Ercole and Senior Vice President Andrew Manley in the arrangement and placement of real estate capitalization, both debt and equity, on behalf of their clients. Brendan will also be working on business development initiatives for MacKenzie Capital.
"We are excited to have Brendan join MacKenzie Capital in this dynamic real estate market," stated John Black, President. "Brendan's knowledge, enthusiasm, and skillset will be a tremendous asset to our capital team now and in the future, helping to uncover real estate capital financing opportunities. We are fortunate to have such a quality young professional join our team."
Brendan is a graduate of the University of Maryland where he double-majored in finance and management. During college he held internships with notable firms Heritage Financial and JPMorgan Chase. A Baltimore native, Brendan began his professional career working as a financial advisor for a boutique firm in Washington, DC. He is currently completing course work for his Masters of Science in Real Estate Development and Infrastructure at Johns Hopkins University and is expected to graduate this August.
MacKenzie Capital provides financing strategies for owners and borrowers, locally, regionally, and nationally. Specializing in the arrangement and placement of real estate capital, both debt and equity, for a diverse range of commercial real estate projects, including office, retail, industrial, multi-family, and land, MacKenzie represents real estate investors, owners and developers (not lenders) in matching their business objectives with appropriate capital sources for construction, acquisition, and non-recourse loans, mezzanine financing, and joint venture opportunities. From start to finish, MacKenzie defines the objectives of the borrower, identifying potential capital sources, assisting in the negotiation of business terms, and driving the deal to successful closure. This tailored approach, combined with their in-depth knowledge of capital markets and ability to attract a wide-range of capital sources, allows MacKenzie to maximize client financing objectives quickly and with certainty of closure.
For more information on MacKenzie Capital, LLC, please visit www.mackenziecapital.com.