Royal Farms Selects MacKenzie Contracting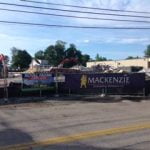 Royal Farms has selected MacKenzie Contracting Company, LLC to construct their latest store in Randallstown, Maryland. Formerly the site of an Antwerpen Nissan Dealership, the new 5,100 square foot Royal Farms location will be situated prominently on the heavily traveled Liberty Road, offering a full convenience store and gas station services.
MacKenzie Contracting will be responsible for the complete demolition of the existing dealership buildings and the ground-up construction of the store. With demolition having begun in June, the project is expected to deliver by November 2015.
"Having completed two other Royal Farms locations, we are honored to have the opportunity to work with them again on this project," stated Vice President of Business Development, Joe Versey. "This addition to the market will provide benefits to both the community it will serve and to Royal Farms' overall business plans. We look forward to our continued relationship with the group."
Royal Farms operates under Two Farms Inc., along with Cloverland Dairy. The first Royal Farms store opened in 1959 and is headquartered in Baltimore, Maryland. The chain now employs approximately 4,000 people and has a total of over 162 stores in Maryland, Pennsylvania, Delaware and Virginia.
"This is our third project with MacKenzie Contracting and we look forward to doing many more. We have enjoyed working together and watching the relationship grow," stated Chris Bollino, Construction Manager for Royal Farms.
Established in 1988, MacKenzie Contracting Company, LLC, is an award-winning full-service general contracting and construction management firm offering a full range of pre-construction, general contracting, ground-up construction, renovations and project management assistance for clients in an array of industries; including healthcare, defense, education, retail, business, and manufacturing.
For more information on Royal Farms, please visit www.royalfarms.com. For commercial construction services, please contact Joe Versey of MacKenzie Contracting Company, LLC at jversey@mackenziecontracting.com or 443.610.7505.

MacKenzie Ventures, LLC (MacKenzie) possesses the multi-disciplined team necessary to excel in Maryland's corporate real estate community. Comprising seven firms, MacKenzie provides clients a competitive, full service platform of offerings in leasing, sales, investment sales, tenant and landlord advisory services, corporate and business consulting, commercial and residential development, general construction, property and asset management, debt and equity capital placement, and market research. With more than 150 employees and offices in Annapolis, Baltimore, Bel Air, Columbia, and Lutherville, Maryland, MacKenzie is one of the largest full service commercial real estate firms in the Mid-Atlantic. Please visit www.mackenziecommercial.com for more information.