American Access Care of Towson Expands to Owings Mills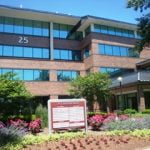 MacKenzie Commercial Real Estate Services, LLC is proud to announce American Access Care of Towson, vascular and interventional specialists, has leased 6,599 square feet at 25 Crossroads Drive in Owings Mills, Maryland. MacKenzie Vice Presidents Meghan Roy and Matthew Mueller represented the landlord in the transaction. Mike Mull of NAI KLNB, LLC represented the tenant.
25 Crossroads is an 85,000 square foot office building situated prominently along the Reisterstown Road Corridor.Tenant uses in the building range from general business and financial services to multiple medical practices. 25 Crossroads is also home to Linwoods, one of Baltimore's finest restaurants.
"American Access Care is a great addition to 25 Crossroads," stated Vice President, Meghan Roy. "Their new space will allow them to provide their patients the accessible care they are recognized for from a convenient location."
American Access Care of Towson's outpatient centers provide minimally invasive, image-guided procedures in a caring, comfortable environment. They offer a multitude of medical services, including dialysis access management and uterus sparing treatment for uterine fibroids.
For leasing inquiries, please contact 410-821.8585 or visit our website, www.mackenziecommercial.com.
MacKenzie Ventures, LLC (MacKenzie) possesses the multi-disciplined team necessary to excel in Maryland's corporate real estate community. Comprising seven firms, MacKenzie provides clients a competitive, full service platform of offerings in leasing, sales, investment sales, tenant and landlord advisory services, corporate and business consulting, commercial and residential development, general construction, property and asset management, debt and equity capital placement, and market research. With more than 150 employees and offices in Annapolis, Baltimore, Bel Air, Columbia, and Lutherville, Maryland, MacKenzie is one of the largest full service commercial real estate firms in the Mid-Atlantic. Please visit www.mackenziecommercial.com for more information.