Downtown Bel Air Receives a Facelift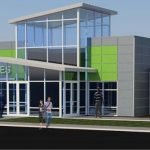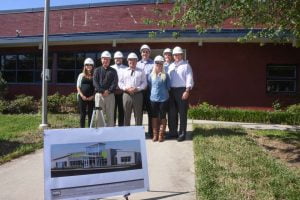 Released on behalf of our client, Spartan Surfaces.

Spartan Surfaces is pleased to announce the recent ground breaking of their new downtown Bel Air headquarters location.Occupying the county's well-known Aegis Building at 10 Hays Street, Spartan, a Forest Hill based flooring sales and consulting firm, will be performing a complete renovation, remodeling the building to fit their style and growing business.Representatives from the Town of Bel Air and County Executive Barry Glassman attended the ceremony held on August 28th to show their support. MacKenzie's Vice President, Tom Mottley, represented Spartan in the purchase of the building.
After sitting vacant for nearly five years, the 41,000 square foot building was once home to The Aegis newspaper and its printing press. A rare offering for the downtown Bel Air market, the building offers both office and warehouse space on a 2.14 acre parcel situated between Thomas Street and Pennsylvania Avenue, across from the Mary E. W. Risteau Multi-Service Center and District Court.Currently located in 20,000 square feet at the Forest Hill Industrial Airpark, Spartan will move approximately 24 employees to the new Bel Air location by January 2016.
"It was important that we remain in Harford County and we are excited to be part of the revitalization of a downtown staple," stated Kevin Jablon, President of Spartan Surfaces. "This location provides a uniqueness that is more tailored to our employees and business model, and will accommodate future growth."
Frederick Ward Associates is assisting in the reconfiguration of the site and building renovations which began Friday, August 28th and will include improvements to the interior and exterior of the building, surrounding landscape, parking areas, and sidewalks. Quandel Construction Group is the project's contractor.
"Large blocks of space like the Aegis Building are a rare find, particularly for the Downtown Bel Air market," stated Tom Mottley. "The size and location, coupled with the surrounding amenities, makes 10 Hays Street an ideal fit for a firm such as Spartan to grow and maintain a productive workforce. I'm excited to see the updated product."

ABOUT SPARTAN SURFACES

Spartan Surfaces is a sales and consulting group specializing in commercial flooring alternatives. Its geography encompasses the Mid-Atlantic market from Virginia through New York as well as regions in the Midwest. The company strives to be a game changer in every area from product selection to education to customer service. Taking a human-centered approach, Spartan prides itself on great people dedicated to great products, great families, great friendships and great happiness. Every single team member helps pave the way to exceptional flooring interiors so that every project looks extraordinary. For more information on Spartan Surfaces, please visit www.spartansurfaces.com.

ABOUT MACKENZIE

MacKenzie Ventures, LLC (MacKenzie) possesses the multi-disciplined team necessary to excel in Maryland's corporate real estate community.Comprising seven firms, MacKenzie provides clients a competitive, full-service platform of offerings in leasing, sales, investment sales, tenant and landlord advisory services, corporate and business consulting, commercial and residential development, general construction, property and asset management, debt and equity capital placement, and market research. With more than 150 employees and offices in Annapolis, Baltimore, Bel Air, Columbia, and Lutherville, Maryland, MacKenzie is one of the largest full service commercial real estate firms in the Mid-Atlantic. Please visit www.mackenziecommercial.com for more information. For sale or leasing inquiries contact Tom Mottley of MacKenzie Commercial Real Estate Services at tmottley@mackenziecommercial.com or 410-879-1900.
Provided photographs of the event were taken by Dave Jackson Photojournalist, http://davejacksonphotojournalist.com.