MacKenzie Grows Their Annapolis Team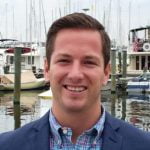 MacKenzie Commercial Real Estate Services, LLC is proud to announce the addition of John Gallagher to the MacKenzie team in our Annapolis office as a Real Estate Advisor. Having recently completed MacKenzie's intern program, John is a licensed real estate agent in the State of Maryland and will be working alongside industry leaders Trish Farrell, Justin Mullen, Ginny Vernick, and David McClatchy, assisting with landlord and tenant advisory services.
"We continue to see the value in today's youth, the fresh perspective they bring to our business," stated J. Scott Wimbrow, SIOR, President of MacKenzie Commercial Real Estate Services, LLC. "During his internship, John proved he had the dedicated work ethic and commitment our clients have come to expect from our company. He is a welcomed addition to the team; we are excited to have him."
In his role as a Real Estate Advisor, John will assist the brokers with day-to-day leasing operations for properties currently represented by MacKenzie in the Baltimore Washington Corridor and surrounding counties. His responsibilities include generating new tenant leads, coordination of marketing and creative materials, database management, and overall business development initiatives. An Annapolis resident, John is a graduate of Towson University and holds a Bachelor's Degree in Business Administration. While at Towson, he was a member of the men's lacrosse team. Prior to joining MacKenzie, he worked as a Leasing Consultant for AvalonBay Communities.
"John will play a critical role in assisting our Annapolis office with our growing assignments and the generation of new prospects. We welcome his enthusiasm, creativity, and drive to the team," stated Vice President Trish Farrell.
John can be reached at 410-953-0356 or jgallagher@mackenziecommercial.com. For more information on MacKenzie Commercial Real Estate Services, LLC, please visit www.mackenziecommercial.com.
###
MacKenzie Ventures, LLC (MacKenzie) possesses the multi-disciplined team necessary to excel in Maryland's corporate real estate community. Comprising seven firms, MacKenzie provides clients a competitive, full service platform of offerings in leasing, sales, investment sales, tenant and landlord advisory services, corporate and business consulting, commercial and residential development, general construction, property and asset management, debt and equity capital placement, and market research. With more than 150 employees and offices in Annapolis, Baltimore, Bel Air, Columbia, and Lutherville, Maryland, MacKenzie is one of the largest full service commercial real estate firms in the Mid-Atlantic. Please visit www.mackenziecommercial.com for more information.