MacKenzie Contracting Partners with the ABC Network's "Built Upon a Dream"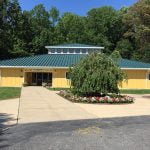 The MacKenzie Companies are honored to recognize their contracting division, MacKenzie Contracting Company, for their outstanding demonstration of community support and role during The Summit School's recent makeover. Located in Edgewater, Maryland, The Summit School, a non-profit school for children with language-based learning differences, underwent physical renovations thanks to the program, Built Upon a Dream. Based on the ABC Network's popular "Extreme Makeover: Home Edition," Built Upon a Dream offers local non-profit organizations a chance to greatly improve their facilities. The Summit School was in need of numerous improvements across its campus; site work, roofing, painting, electrical, fencing, and landscaping.Partnering with the network and area businesses, suppliers, and volunteers, MacKenzie Contracting Company, led by President/COO Marty Copsey, acted as General Contractor for the project, donating his time and firm's resources and support to aid in accomplishing the much needed improvements.
"My firm and I are humbled by the opportunity to participate in The Summit School's Built Upon a Dream project. Providing oversight to the improvements that will ultimately enhance the learning environment, that is what's important," stated Marty Copsey. "At the end of the day, it is a feel-good opportunity to help the children; that is what gets you. Also, many applause to the firms that donated their time, labor, and materials; they are the ones that did all of the work."
Founded in 1989, The Summit School is now celebrating its 27th year. With students in grades 1 – 8, the school provides individualized instruction to those with dyslexia and other learning differences, empowering and preparing them for high school, college, and after. Recognized for academic excellence and research-based methodologies, the school has received numerous awards including being named a National Blue Ribbon School of Excellence in 1999 and Non-Profit of the Year in 2008 by the Annapolis and Anne Arundel County Chamber of Commerce.
The Summit School's new facility was unveiled to sponsors, volunteers, staff, and students this past Thursday, September 10th. A half-hour TV special telling the story of The Summit School Dream Build is slated to air on WMAR ABC 2, on Thursday, September 17th at 7:30 p.m.
The Summit School is MacKenzie Contracting's second Built Upon a Dream project. In 2007, Marty and his team were involved with the renovations completed at the Naval Academy Primary School (NAPS).
For more information on MacKenzie Contracting Company, please visit www.mackenziecontracting.com or contact Marty Copsey at 410.296.8081, or mcopsey@mackenziecontracting.com.
###
MacKenzie Ventures, LLC (MacKenzie) possesses the multi-disciplined team necessary to excel in Maryland's corporate real estate community. Comprising seven firms, MacKenzie provides clients a competitive, full service platform of offerings in leasing, sales, investment sales, tenant and landlord advisory services, corporate and business consulting, commercial and residential development, general construction, property and asset management, debt and equity capital placement, and market research. With more than 150 employees and offices in Annapolis, Baltimore, Bel Air, Columbia, and Lutherville, Maryland, MacKenzie is one of the largest full service commercial real estate firms in the Mid-Atlantic. Please visit www.mackenziecommercial.com for more information.