Sean Langford Joins MacKenzie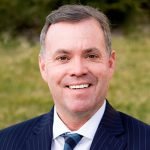 MacKenzie Commercial Real Estate Services, LLC is proud to announce that Sean Langford has joined their brokerage division as Vice President. Specializing in the sale and leasing of all commercial assets, Sean brings more than 15 years' experience to the MacKenzie team.
"The addition of Sean showcases our dedication to better serving the ever changing and multi-faceted commercial real estate industry," stated Scott Wimbrow, President of MacKenzie Commercial Real Estate Services, LLC. "Sean's expansive market knowledge and industry experience compliments what our clients have come to rely upon us to provide. We all look forward to working with him."
Langford's extensive background includes landlord and tenant representation spanning both Maryland and Delaware markets. His experience also includes site selection, as well as bulk land sales and the development of both commercial and residential projects, having developed several office and retail properties in the Baltimore Metro area and hundreds of residential lots. An active member of his community, Sean is also a member of industry organizations including Maryland Home Builders Association, ICSC, and Baltimore Real Estate Developers Association.
"I am excited to join MacKenzie," stated Sean. "Their well respected reputation, coupled with their commitment to Maryland will be a natural fit for my clients."
Sean will continue working to identify prospective tenants for his represented projects, as well as advising users of market opportunities and conditions.
Sean can be reached directly at 443.573.3218 or slangford@mackenziecommercial.com. For more information on MacKenzie, please visit www.mackenziecommercial.com.
###
MacKenzie Ventures, LLC (MacKenzie) possesses the multi-disciplined team necessary to excel in Maryland's corporate real estate community. Comprising seven firms, MacKenzie provides clients a competitive, full service platform of offerings in leasing, sales, investment sales, tenant and landlord advisory services, corporate and business consulting, commercial and residential development, general construction, property and asset management, debt and equity capital placement, and market research. With more than 150 employees and offices in Annapolis, Baltimore, Bel Air, Columbia, and Lutherville, Maryland, MacKenzie is one of the largest full service commercial real estate firms in the Mid-Atlantic. Please visit www.mackenziecommercial.com for more information.