Standard Energy Solutions Relocates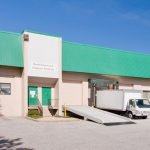 Standard Energy Solutions (SES), a solar energy contractor and provider of home energy management solutions, is relocating its corporate headquarters to Columbia, Maryland in Howard County. The company which is currently headquartered in Rockville, Maryland recently signed a lease for 18,000 square feet at 9520 Gerwig Lane. Chris Bennett, Executive Vice President/Principal with MacKenzie Commercial Real Estate Services, LLC represented the tenant in the transaction.
SES, whose clients range from residential users to industries such as commercial, public sector, education, agriculture, and utilities, chose the new location along the I-95 Corridor due to its central market position which will allow them to expand their offerings and reach clients more efficiently. The space will also be used to house their materials.
"The need for a more central location was vital to our decision to move; not only will we be able to better serve our current client base, we will also be better positioned to grow our market reach," stated Steve Welsh, President of SES.
9520 Gerwig Lane is a 90,000 square foot warehouse building located in the Columbia Center Park, a two-building project that offers more than 220,000 square feet of warehouse space.
"Accessibility to multiple major metropolitan markets continues to make the I-95 Corridor a sought after location, specifically for companies pursuing regional customer bases," stated Chris Bennett.
Standard Energy Solutions (SES) is a provider of home energy management solutions. The experts at SES have helped over 1,000 households take control of energy costs through PV solar installations, innovative energy efficiency upgrades, and home energy management tools. SES provides customers with personalized options to optimize energy consumption, working to lower utility bills, reduce environmental impact, and create a more comfortable home.
For more information on SES, please visit www.standardenergysolutions.com. For leasing inquiries contact Chris Bennett at 410.953.0352 or cbennett@mackenziecommercial.com.
###
MacKenzie Ventures, LLC (MacKenzie) possesses the multi-disciplined team necessary to excel in Maryland's corporate real estate community. Comprising seven firms, MacKenzie provides clients a competitive, full service platform of offerings in leasing, sales, investment sales, tenant and landlord advisory services, corporate and business consulting, commercial and residential development, general construction, property and asset management, debt and equity capital placement, and market research. With more than 150 employees and offices in Annapolis, Baltimore, Bel Air, Columbia, and Lutherville, Maryland, MacKenzie is one of the largest full service commercial real estate firms in the Mid-Atlantic. Please visit www.mackenziecommercial.com for more information.