MacKenzie Brokers Two Eastern Shore Sales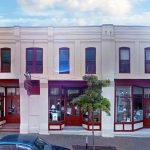 MacKenzie Commercial Real Estate Services, LLC is proud to announce the recent sale of two commercial properties, 26 W. Dover Street and an undeveloped parcel on Brant Court, in Easton, Talbot County, Maryland. MacKenzie's Scott Wimbrow, President, and Don Schline, Senior Vice President/Principal, represented the sellers in both transactions.
26 W. Dover Street is a 7,400 square foot office and retail building situated in the heart of Easton's historic downtown area. Fully renovated in 2004, the building presented an ideal investment opportunity rarely available in this prime area. The two-story building features retail on the first floor with office space on the second.
Brant Court is a 13.2 acre parcel located on the east side of U.S. Route 50 that will be used for the development of a 96 unit apartment project. After conducting market studies for the area, the need for additional multi-family was uncovered; however, land that could accommodate such a use was not readily available. MacKenzie coordinated with officials an exception that was made to this site's industrial zoning that would allow a multi-family/residential project to be developed. Development efforts are slated to begin this Spring.
For more information on MacKenzie's sale and leasing platforms, please contact Scott Wimbrow at 410-953-0354 or swimbrow@mackenziecommercial.com, or Don Schline at 410-404-6648 or dschline@mackenziecommercial.com.
###
MacKenzie Ventures, LLC (MacKenzie) possesses the multi-disciplined team necessary to excel in Maryland's corporate real estate community. Comprising seven firms, MacKenzie provides clients a competitive, full service platform of offerings in leasing, sales, investment sales, tenant and landlord advisory services, corporate and business consulting, commercial and residential development, general construction, property and asset management, debt and equity capital placement, and market research. With more than 150 employees and offices in Annapolis, Baltimore, Bel Air, Columbia, and Lutherville, Maryland, MacKenzie is one of the largest full service commercial real estate firms in the Mid-Atlantic. Please visit www.mackenziecommercial.com for more information.