Global Experiences Purchases Annapolis Street Building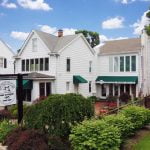 MacKenzie Commercial Real Estate Services, LLC is pleased to announce that Global Experiences (GE), provider of highly customized international internship and study abroad programs, has purchased 14 Annapolis Street, Annapolis, Maryland. MacKenzie Vice Presidents Justin Mullen represented the purchaser, and Trish Farrell represented the seller in the transaction.
14 Annapolis Street is a 5,000 square foot building situated in the heart of West Annapolis that presented a unique opportunity for both retail and office/business users. Previously located on West Street in downtown Annapolis, GE wanted a location that would be easily accessible for their employees by car or bike.
"This location is more than perfect for a group such as Global Experiences," stated Justin Mullen. "It provides them with the accessibility they need for employees and clients, and has a unique charm and character that compliments their organization. This purchase has established a world headquarter location for the group for years to come."
West Annapolis is a unique neighborhood offering residents a live, work, play atmosphere with an excellent balance of residential and commercial properties with Annapolis Street accommodating a variety of businesses including coffee shops, antique stores, offices, restaurants, salons, and medical services.
Founded in 2001, GE is one of the only international internship providers that began with the goal of providing young professionals with international work experience. GE is comprised of world travelers who are fortunate to have lived, worked, or studied overseas. Their team of more than 30 spans seven nationalities and 10 locations throughout the world. Their program today serves thousands of students from the US, Canada, UK, and Australia as they seek to jump start their careers. An award-winning firm, GE made Inc. 5000's 2015 list of fastest growing companies in America. Co-Founder Emily Merson was a 2015 recipient of the Enterprising Women of the Year Award. The other Co-Founder, Stephen Reilly, is the immediate past Executive Director of the Fulbright Association, the official alumni association of the Fulbright Scholarship program. The firm has also been recognized by Forbes, USA Today, and additional local, regional, and national news outlets.
For more information on Global Experiences, please visit www.globalexperiences.com. For sale and leasing inquiries contact Justin Mullen at 410.974.9008 or jmullen@mackenziecommercial.com, or Trish Farrell at 410.974.9003 or tfarrell@mackenziecommercial.com.
###
MacKenzie Ventures, LLC (MacKenzie) possesses the multi-disciplined team necessary to excel in Maryland's corporate real estate community. Comprising seven firms, MacKenzie provides clients a competitive, full service platform of offerings in leasing, sales, investment sales, tenant and landlord advisory services, corporate and business consulting, commercial and residential development, general construction, property and asset management, debt and equity capital placement, and market research. With more than 150 employees and offices in Annapolis, Baltimore, Bel Air, Columbia, and Lutherville, Maryland, MacKenzie is one of the largest full service commercial real estate firms in the Mid-Atlantic. Please visit www.mackenziecommercial.com for more information.