MacKenzie Brokers 57,401 SF Sale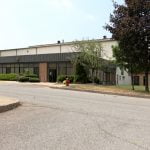 MacKenzie Commercial Real Estate Services, LLC is pleased to announce the recent sale of 4611 North Point Boulevard, a 57,401 square foot industrial warehouse building situated on 17 acres in Baltimore, Baltimore County, Maryland. Zoned for heavy industrial, the building's attractive location to I-95 and I-695 and the availability of space for additional development attracted the buyer, leading to a higher than asking sales price. Michael Spedden, Vice President and Don Schline, Senior Vice President/Principal with Mackenzie represented the seller in the transaction.
For more information on MacKenzie's industrial sales services, please contact Michael Spedden at 410.494.6644 or mspedden@mackenziecommercial.com, or Don Schline at 410.494.6648 or dschline@mackenziecommercial.com.For more information on MacKenzie, please visit www.mackenziecommercial.com.
###
MacKenzie Ventures, LLC (MacKenzie) possesses the multi-disciplined team necessary to excel in Maryland's corporate real estate community. Comprising seven firms, MacKenzie provides clients a competitive, full service platform of offerings in leasing, sales, investment sales, tenant and landlord advisory services, corporate and business consulting, commercial and residential development, general construction, property and asset management, debt and equity capital placement, and market research. With more than 150 employees and offices in Annapolis, Baltimore, Bel Air, Columbia, and Lutherville, Maryland, MacKenzie is one of the largest full service commercial real estate firms in the Mid-Atlantic. Please visit www.mackenziecommercial.com for more information.