AAACCC Elects David McClatchy to Board of Directors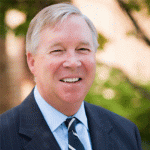 MacKenzie Commercial Real Estate Services, LLC is proud to announce that David McClatchy has been elected to the Board of Directors of the Annapolis and Anne Arundel County Chamber of Commerce.
Intimately familiar with the Anne Arundel County market, Dave started his career more than 25 years ago focusing on the industrial and commercial sectors of the area. After expanding to include the suburban Maryland markets, his focus has returned home. Originally from Philadelphia, Dave has been a resident of Annapolis for more than 30 years. He is very active and knowledgeable of not only corporate, but local business happenings for the county. Dave's extensive involvement, coupled with his former role where he led the Prince George's County Chamber for which he received the Distinguished Service Award and Chairman's Award, lend perfectly to this appointment. He is also a past board member of the BWI Development Council.
"We are excited for Dave and congratulate him on this appointment," stated Scott Wimbrow, President of MacKenzie Commercial Real Estate Services, LLC. "Dave is the perfect candidate to help foster the county's efforts for continued growth and expansion. We look forward to supporting him and the County."
At MacKenzie, Dave handles assignments in almost all facets of commercial real estate including design-build projects, user and income producing sales, land acquisitions, county and city government representation, office and industrial agency leasing, portfolio sales, tenant representation, and lease re-structures.
Nominated by the existing members of the Board, Dave will serve a three year term effective February 2016.
Dave can be reached directly at 410.953.0366 or dmclatchy@mackenziecommercial.com. For more information on MacKenzie, please visit www.mackenziecommercial.com.
About Annapolis and Anne Arundel County Chamber of Commerce
AAACCC is one of the largest chambers of commerce in Maryland with a strong advocacy role for businesses, a vibrant networking role that helps businesses expand their customer base, and unparalleled access to resources important for businesses to grow and succeed in the City of Annapolis, and Anne Arundel County. The Annapolis and Anne Arundel County Chamber of Commerce has also become the leading business organization in the region; fostering communication, the exchange of ideas, and facilitating effective collaboration on issues affecting business and economic development.For more information on the Chamber, please visit www.annearundelchamber.org.
###
MacKenzie Ventures, LLC (MacKenzie) possesses the multi-disciplined team necessary to excel in Maryland's corporate real estate community. Comprising seven firms, MacKenzie provides clients a competitive, full service platform of offerings in leasing, sales, investment sales, tenant and landlord advisory services, corporate and business consulting, commercial and residential development, general construction, property and asset management, debt and equity capital placement, and market research. With more than 150 employees and offices in Annapolis, Baltimore, Bel Air, Columbia, and Lutherville, Maryland, MacKenzie is one of the largest full service commercial real estate firms in the Mid-Atlantic. Please visit www.mackenziecommercial.com for more information.