Praxis Engineering Technologies Expands Virginia Operations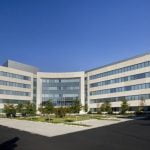 MacKenzie Commercial Real Estate Services, LLC is proud to announce that Praxis Engineering Technologies, a consulting, products, and solutions firm that supports the U.S. Government and private sector organizations, has signed a lease for 7,704 square feet at Independence Center I, 15036 Conference Center Drive in Chantilly, Virginia.  Headquartered in Annapolis Junction, Maryland, this lease represents an expansion of their current Virginia location in Chantilly and will allow Praxis to further serve the security needs of our nation.  Scott Wimbrow, President of MacKenzie Commercial Real Estate Services, LLC and MacKenzie Real Estate Advisor Dave Sciamarelli represented Praxis in the transaction.
Working with Praxis' President William Dunahoo, Scott has assisted the firm with their real estate needs since its inception more than 13 years ago.  Today, Praxis occupies more than 50,000 square feet in Maryland and Virginia markets and employees more than 300 people.
"MacKenzie's offerings and client support services have moved us through our expansion requirements over the years seamlessly," stated Dunahoo.  "I look forward to our continued partnership."
Founded in 2002, Praxis focuses on the practical application of software and system engineering technologies to solve complex problems. They combine world class engineers with proven engineering best practices, domain expertise, commercial technologies, and proven agile management approaches to provide high value consulting, products, and solutions aimed at helping their customers meet their most critical business and mission objectives.
"MacKenzie's innovative structure that combines real time data with world-class technology allows our associates to reveal opportunities for clients in any market across the U.S.," stated Wimbrow.  "It remains a pleasure to work with Praxis as they continue to expand their operations."
For more information on Praxis, please visit www.praxiseng.com.  For leasing inquiries, contact Scott Wimbrow at 410-953-0354 or swimbrow@mackenziecommercial.com, or Dave Sciamarelli at 410-953-0357 or dsciamarelli@macienziecommercial.com.
###
MacKenzie Ventures, LLC (MacKenzie) possesses the multi-disciplined team necessary to excel in Maryland's corporate real estate community.  Comprising seven firms, MacKenzie provides clients a competitive, full service platform of offerings in leasing, sales, investment sales, tenant and landlord advisory services, corporate and business consulting, commercial and residential development, general construction, property and asset management, debt and equity capital placement, and market research.  With more than 150 employees and offices in Annapolis, Baltimore, Bel Air, Columbia, and Lutherville, Maryland, MacKenzie is one of the largest full service commercial real estate firms in the Mid-Atlantic. Please visit www.mackenziecommercial.com for more information.