Holiday Events at Bel Air Town Center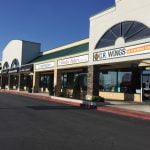 Strongly committed to the Harford County community, Bel Air Town Center's local ownership provides space for area organizations to display items and host events for residents each year. MacKenzie Retail, LLC is pleased to promote Bel Air Town Center and the center's upcoming holiday activities. Details on this year's three holiday events are as follows:
Already underway, the "Christmas in the Woods Craft Show" is being held now through November 27th in Suite 564 next to Liberatore's Ristorante & Catering. Holiday items available include handmade crafts, collectibles and antiques, holiday decorations, gifts, toys, and more. Visit www.christmasinthewoods.com for complete details.
Starting November 25th and running through January 15, 2017, the center will host the Annual Holiday Model Train Display which is being presented by the Mason Dixon Large Scale Railroad Society. The exhibit will be located in Suite 556 next to Rainbow King. Additional details are available at www.mdlsrs.com.
Bel Air Town Center will also host the Harford County Sheriff's 34th Annual Christmas Drive in Suite 568 near Leslie Pool. This event begins November 1st and runs through January 1, 2017. They will be accepting donations of toys, non-perishable foods, personal hygiene items, first aid supplies, sports equipment, baby and toddler accessories, and more. For a complete list of items needed, please visit www.harfordsheriff.org/get-involved/christmas-drive/.
"We are honored to host these activities during the holiday season," stated Chris Kurz, owner of Bel Air Town Center. "The events help to bring the community together, providing holiday cheer to many and assistance to those in need. Each event offers a little something for everyone, we hope you are able to visit and enjoy."
Recently renovated to include upgraded facades, wider sidewalks, and enhanced lighting and landscaping, Bel Air Town Center is conveniently located at the intersection of US Route 1 and Route 24 and features a variety of retail offerings including Liberatore's, Alchemy Elements, Stone's Cove, and more. For additional information on leasing opportunities within the center, please contact Laura Williams at 410.494.4864 or lwilliams@mackenziecommercial.com, or Tom Fidler at 410.494.4860 or tfidler@mackenziecommercial.com.
###
MacKenzie Ventures, LLC (MacKenzie) possesses the multi-disciplined team necessary to excel in Maryland's corporate real estate community. Comprising seven firms, MacKenzie provides clients a competitive, full service platform of offerings in leasing, sales, investment sales, tenant and landlord advisory services, corporate and business consulting, commercial and residential development, general construction, property and asset management, debt and equity capital placement, and market research. With more than 150 employees and offices in Annapolis, Baltimore, Bel Air, Columbia, and Lutherville, Maryland, MacKenzie is one of the largest full service commercial real estate firms in the Mid-Atlantic. Please visit www.mackenziecommercial.com for more information.