MacKenzie to Represent O'Dea Medical Arts Building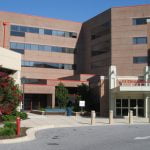 MacKenzie Commercial Real Estate Services, LLC is proud to announce they have been awarded the listing assignment for The O'Dea Medical Arts Building, 7505 Osler Drive, Towson, Maryland, a Class A medical office building situated on the campus of University of Maryland St. Joseph Medical Center (UM SJMC).  The MacKenzie team of Joe Bradley, Matt Mueller, Meghan Roy, and Henson Ford will be representing the owner to lease the remaining space.
"We are looking forward to working with the MacKenzie team on this assignment," stated Craig Carmichael, Senior Vice President, Operations for UM SJMC.  "Their strong local presence and full service platform, coupled with a proven track record in this market provides the ideal support for bringing the building to 100% occupancy."
Situated just off Osler Drive inside the main entrance to the hospital, the 100,000 square foot building offers available spaces ranging 1,000 to 6,200 square feet.  The current tenant roster includes specialties such as cardiovascular, vascular, dermatology, spine, podiatry, and more.   Directly attached to the building is covered parking, allowing more accessibility for tenants and visitors.
"The O'Dea Medical Arts Building offers tenants first class medical office space on the campus of one of the region's most reputable hospitals.  We are honored to have this opportunity and look forward to expanding our relationship with the hospital as we work together to ensure a strong tenant mix in the building," stated Joe Bradley.
For more information on the O'Dea building, please visit www.mackenziecommercial.com.  For leasing inquiries contact Joe Bradley at 410.494.4892 or jbradley@mackenziecommercial.com, or Matt Mueller at 410.494.6658 or mmueller@mackenziecommercial.com.
###
MacKenzie Ventures, LLC (MacKenzie) possesses the multi-disciplined team necessary to excel in Maryland's corporate real estate community. Comprising seven firms, MacKenzie provides clients a competitive, full service platform of offerings in leasing, sales, investment sales, tenant and landlord advisory services, corporate and business consulting, commercial and residential development, general construction, property and asset management, debt and equity capital placement, and market research.  With more than 150 employees and offices in Annapolis, Baltimore, Bel Air, Columbia, and Lutherville, Maryland, MacKenzie is one of the largest full service commercial real estate firms in the Mid-Atlantic. Please visit www.mackenziecommercial.com for more information.