MacKenzie Capital Secures Acquisition Financing for War Horse Cities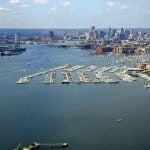 John Black, Will Goetschius, and Brendan Harman of MacKenzie Capital, LLC, are pleased to announce they have secured acquisition financing for a landmark mixed-use property in Baltimore City for an entity sponsored by War Horse Cities, LLC, led by Scott Plank and Steve Jennings.   The total acquisition included over 800 boat slips, office, restaurant, retail space, and a development site, all of which are strategically located along Baltimore's waterfront in the Canton neighborhood.  The financing was creatively structured to provide maximum flexibility to the borrower to pursue future development opportunities at the property.
"We are delighted to have worked with such entrepreneurial and creative operators as Scott and his team.  This will be yet another strategic asset in War Horse Cities' portfolio that will positively impact Baltimore City and the local neighborhood," stated John Black, President of MacKenzie Capital.  "War Horse's hard work, diligence, and their creative approach to the challenges that were presented by this transaction in a short time frame were truly impressive," Black added.
War Horse Cities is committed to supporting and participating in vibrant urban communities that are economically and environmentally sustainable. Hand in hand with the communities we serve, we invest our time, skills and resources into programming spaces, developing real estate and creating philanthropic initiatives for long-term positive impact.
MacKenzie Capital, LLC ("MacCap") is a real estate capital advisory firm that commercial real estate owners, developers, and investors rely on for their debt, equity, and project financing needs.  Our creative, hands-on, and client-focused approach to capital advisory ensures that our clients are getting the most effective financing for their project in the current market.  For decades, our team of experienced advisors has successfully arranged financing for small and large projects of all property types throughout the country.    MacCap is an affiliate of The MacKenzie Companies, one of the Mid-Atlantic's largest independently-owned full-service commercial real estate firms that is based in Baltimore, Maryland.
For more information about MacKenzie Capital, please visit www.mackenziecommercial.com, or contact John Black at jblack@mackenziecommercial.com or 410.494.6652,  Will Goetschius at wgoetschius@mackenziecommercial.com, or202.341.6474, or  Brendan Harman at bharman@mackenziecommercial.com or 410.494.6656.
###
MacKenzie Ventures, LLC (MacKenzie) possesses the multi-disciplined team necessary to excel in Maryland's corporate real estate community. Comprising seven firms, MacKenzie provides clients a competitive, full service platform of offerings in leasing, sales, investment sales, tenant and landlord advisory services, corporate and business consulting, commercial and residential development, general construction, property and asset management, debt and equity capital placement, and market research.  With more than 225 employees and offices in Annapolis, Baltimore, Bel Air, Columbia, and Lutherville, Maryland, MacKenzie is one of the largest full service commercial real estate firms in the Mid-Atlantic. Please visit www.mackenziecommercial.com for more information.