Capital Women's Care Expands Regional Headquarters in Maple Lawn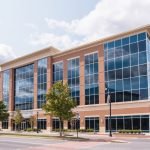 The largest private obstetrics and gynecology practice in the Mid-Atlantic region has continued its expansion in Maryland through the opening of a new office in Maple Lawn. The new lease represents a relocation and expansion of the Capital Women's Care (Unified Physician Management, LLC) regional headquarters office.
"This move will better allow Capital Women's Care to provide services to the Mid-Atlantic and helps to position them for continued growth in our region," said Joe Bradley, Senior Vice President and Principal of MacKenzie Commercial Real Estate Services, LLC. "We are excited to see the opportunities that this move will undoubtedly afford our client both now and in the future."
Capital Women's Care employs more than 200 medical professionals throughout more than 55 locations across Maryland, Virginia, and DC. Joe Bradley and Meghan Roy provided tenant representation to Capital Women's Care in the lease of 15,093 square feet of Class A office space located at 8110 Maple Lawn Boulevard. The group is upgrading from a single-story office space also in Maple Lawn to a larger, more modern and amenity-rich facility designed to improve the onsite experience for their staff. The location is among the most desirable in the ever-expanding Maple Lawn business community located in Fulton, Howard County, Maryland.
"MacKenzie worked aggressively in negotiating this deal on our behalf, affording us the ability to nearly double our footprint and ultimately better support our growing number of physicians and locations," stated Debbie Redd-Potee, President, UPM Mid-Atlantic Region.  "We are excited about this opportunity and look forward to working with MacKenzie on future needs."
Mackenzie Companies serves as the exclusive representative of Capital Women's Care in the Mid-Atlantic region. Rick Williamson of St. John's Properties represented the landlord in the transaction.
For more information on Capital Women's Care, please visit www.cwcare.net.  For leasing inquiries contact Joe Bradley at jbradley@mackenziecommercial.com or 410.494.4892, or Meghan Roy at mroy@mackenziecommercial.com or 410.494.4846.
###
MacKenzie Ventures, LLC (MacKenzie) possesses the multi-disciplined team necessary to excel in Maryland's corporate real estate community. Comprising seven firms, MacKenzie provides clients a competitive, full service platform of offerings in leasing, sales, investment sales, tenant and landlord advisory services, corporate and business consulting, commercial and residential development, general construction, property and asset management, debt and equity capital placement, and market research.  With more than 225 employees and offices in Annapolis, Baltimore, Bel Air, Columbia, and Lutherville, Maryland, MacKenzie is one of the largest full service commercial real estate firms in the Mid-Atlantic. Please visit www.mackenziecommercial.com for more information.