MacKenzie Capital Secures Financing for Two Weis Markets-Anchored Shopping Centers in PA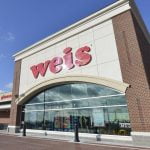 MacKenzie Capital ("MacCap") is pleased to announce that it has placed a combined $14.38MM in senior and revolving line-of-credit financing on a portfolio of Weis Markets-anchored shopping centers in Pennsylvania's Lehigh Valley. The sponsor is a family-owned company that has been in business for over 40 years in Eastern-Central Pennsylvania.  Through a highly-competitive process, MacCap was able to secure the 75% loan-to-value, 4.15%, 10-year fixed-rate, non-recourse financing providing financial and prepayment flexibility over the term of the loan.  The working capital line of credit was unique, providing virtually unrestricted usage on a non-recourse basis.
"It was a pleasure working with such fine people as our client, whose sterling business reputation and careful management of these assets helped us to secure outstanding terms," stated Will Goetschius, Vice President of MacKenzie Capital.
"It always begins with sponsorship and asset quality," stated John Black, President of MacKenzie Capital.  "We are grateful to have represented the ownership in the recapitalization of this asset and helping them execute future real estate investments.  MacCap looks forward to expanding our presence in Central Pennsylvania."
MacKenzie Capital, LLC ("MacCap") is a real estate capital advisory firm that commercial real estate owners, developers, and investors rely on for their debt, equity, and project financing needs.  Our creative, hands-on, and client-focused approach to capital advisory ensures that our clients are getting the most effective financing for their project in the current market.  For decades, our team of experienced advisors has successfully arranged financing for small and large projects of all property types throughout the country.    MacCap is an affiliate of The MacKenzie Companies, one of the Mid-Atlantic's largest independently-owned full-service commercial real estate firms that is based in Baltimore, Maryland.
For more information about MacKenzie Capital, please visit www.mackenziecommercial.com or contact John Black at jblack@mackenziecommercial.com or 410.494.665; Will Goetschius at wgoetschius@mackenziecommercial.com or 202.341.6474; or, Brendan Harman at bharman@mackenziecommercial.com or 410.494.6656.
###
MacKenzie Ventures, LLC (MacKenzie) possesses the multi-disciplined team necessary to excel in Maryland's corporate real estate community. Comprising seven firms, MacKenzie provides clients a competitive, full service platform of offerings in leasing, sales, investment sales, tenant and landlord advisory services, corporate and business consulting, commercial and residential development, general construction, property and asset management, debt and equity capital placement, and market research.  With more than 225 employees and offices in Annapolis, Baltimore, Bel Air, Columbia, and Lutherville, Maryland, MacKenzie is one of the largest full service commercial real estate firms in the Mid-Atlantic. Please visit www.mackenziecommercial.com for more information.