MacKenzie to Represent Offices at 1111 Light Street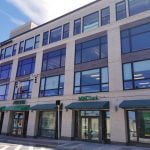 MacKenzie Commercial Real Estate Services, LLC is pleased to announce their recent leasing assignment, the offices at 1111 Light Street, located in the heart of Baltimore's Federal Hill neighborhood.  MacKenzie's Executive Vice President Chris Bennett and Real Estate Advisor Allison Perry will be working to find tenants for the remaining available space which ranges up to 8,000 square feet situated on the second floor of the building. The building is owned by a local partnership lead by Washington Place Equities.
"We are excited to work on this assignment, helping to expand on the business offerings of the Federal Hill Community," stated Perry. "1111 Light is ideal for a range of uses including smaller, start-up firms looking to attract a young and energetic talent pool; or established firms looking to expand their footprint, adding a location that is central to the Baltimore Metropolitan market."
1111 Light truly embraces the live, work, play concept boasting class A office space, luxury residential units, and numerous amenities and services at one's fingertips.  The project is across from Baltimore's iconic Cross Street Market which is currently undergoing massive renovations scheduled to be completed by year's end.  With plans for updated common areas, building signage, and lighting, 1111 Light also offers tenants access to an onsite parking garage, a location convenient to Baltimore's Central Business District and I-95, and open layouts with high ceilings.
"Having worked with the MacKenzie team in many capacities, we are confident that their services and local presence will aid in leasing the remaining space at 1111 Light and we look forward to welcoming new tenants," stated Dominic Wiker of Washington Place Equities.
For more information on leasing opportunities, please contact Chris Bennett at cbennett@mackenziecommercial.com or 410.953.0352, or Allison Perry at aperry@mackenziecommercial.com or 443.573.3208.
###
MacKenzie Ventures, LLC (MacKenzie) possesses the multi-disciplined team necessary to excel in Maryland's corporate real estate community. Comprising seven firms, MacKenzie provides clients a competitive, full service platform of offerings in leasing, sales, investment sales, tenant and landlord advisory services, corporate and business consulting, commercial and residential development, general construction, property and asset management, debt and equity capital placement, and market research.  With more than 225 employees and offices in Annapolis, Baltimore, Bel Air, Columbia, and Lutherville, Maryland, MacKenzie is one of the largest full service commercial real estate firms in the Mid-Atlantic. Please visit www.mackenziecommercial.com for more information.