MacKenzie Contracting Company Awarded Cross Street Market Renovation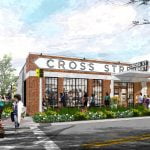 MacKenzie Contracting Company is pleased to announce that they have been awarded the renovation project for Baltimore's iconic Cross Street Market located in the City's historic Federal Hill neighborhood.  Senior Vice President Scott Albright will act as project manager on behalf of MacKenzie who has partnered with the developer, Caves Valley Partners.
With demolition complete and renovations currently underway, the project will be completed in two phases and include a complete interior renovation of all new building systems and public restrooms, new windows and entry doors, and an updated façade that will enhance the look of the building, giving it a retro look resembling the early 1950s when the structure was originally built.  The market's updates are scheduled to be completed by Spring 2019.
"We are excited to be part of the renovation of one of Baltimore's iconic urban marketplaces," stated Joe Versey, Vice President of Business Development for MacKenzie Contracting.  "Joining with Caves Valley Partners and the City of Baltimore provides us with a great opportunity to impact the local community and businesses alike."
Established in 1988, MacKenzie Contracting Company, LLC, is an award‐winning full‐service general contracting and construction management firm offering a full range of pre‐construction, general contracting, ground‐up construction, renovations and project management assistance for clients in an array of industries; including healthcare, defense, education, retail, business, and manufacturing.  For more information on the Cross Street Market renovation, please contact Joe Versey at 443.610.7505, or jversey@mackenziecontracting.com. For more information on MacKenzie Contracting, please visit www.mackenziecontracting.com.
MacKenzie Ventures, LLC (MacKenzie) possesses the multi-disciplined team necessary to excel in Maryland's corporate real estate community. Comprising seven firms, MacKenzie provides clients a competitive, full service platform of offerings in leasing, sales, investment sales, tenant and landlord advisory services, corporate and business consulting, commercial and residential development, general construction, property and asset management, debt and equity capital placement, and market research.  With more than 225 employees and offices in Annapolis, Baltimore, Bel Air, Columbia, and Lutherville, Maryland, MacKenzie is one of the largest full service commercial real estate firms in the Mid-Atlantic. Please visit www.mackenziecommercial.com for more information.