MacKenzie Promotes Trish Farrell to Principal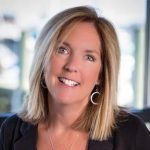 The MacKenzie Companies are proud to announce that Trish Farrell has been named a Principal of MacKenzie Commercial Real Estate Services, LLC, the company's brokerage division and is now Senior Vice President/Principal.
"We are extremely proud of Trish's accomplishments within the industry and her contributions to the growth and successes of our firm," stated Scott Wimbrow, President of MacKenzie Commercial Real Estate Services, LLC.  "Trish's exceptional work ethics, dedication to building lasting relationships with her clients, and professional demeanor have earned her an outstanding reputation in the commercial real estate industry.  We are pleased to welcome her into our partnership."
A member of the MacKenzie team for more than 25 years and although currently based in the company's Annapolis office, Trish specializes in the sale and leasing of commercial real estate across all asset classes throughout the entire Baltimore Washington Corridor.  This extensive experience has given her an understanding of both the landlord and tenant perspectives, making her instrumental in building relationships and guiding clients through economic realities resulting in successful real estate decisions.  Trish represents companies on local, regional, and national levels and in the past five years has completed transactions totaling nearly one million square feet valued at more than $145 million.  She is also actively engaged in helping to build a vibrant entrepreneurial ecosystem and tech hub in the Annapolis/BWI Corridor through her board positions with the Maryland Tech Council and Launch Annapolis.  Trish is also an active member of her Annapolis community.
"I am honored and grateful to be recognized for my accomplishments and excited about my expanded role within the company," stated Farrell.  "I look forward to participating further in building both our firm's and clients' presence in the market, and hope to lead by example to those just getting started with their commercial real estate career."
As a Senior Vice President/Principal, Trish will provide leadership to members of the brokerage division and work to build the firm's market presence throughout the Baltimore Washington Corridor, maintaining and promoting the MacKenzie Brand.
"Trish exemplifies MacKenzie's commitment to superior service and has proven to have the vision and drive to build upon MacKenzie's 50 years of success," stated Gary T. Gill, President of MacKenzie Ventures.  "I am excited for her to join our partnership and look forward to her continued contributions to our firm as she takes on this expanded role."
For more information on Trish Farrell, please visit our team page here.
MacKenzie Ventures, LLC (MacKenzie) possesses the multi-disciplined team necessary to excel in Maryland's corporate real estate community. Comprising seven firms, MacKenzie provides clients a competitive, full service platform of offerings in leasing, sales, investment sales, tenant and landlord advisory services, corporate and business consulting, commercial and residential development, general construction, property and asset management, debt and equity capital placement, and market research.  With more than 225 employees and offices in Annapolis, Baltimore, Bel Air, Columbia, and Lutherville, Maryland, MacKenzie is one of the largest full service commercial real estate firms in the Mid-Atlantic. Please visit www.mackenziecommercial.com for more information.