MacKenzie Capital Secures $10.3 Million for Hotel Development, Rehoboth, DE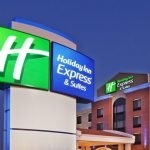 John Black and Brendan Harman of MacKenzie Capital, LLC, are pleased to announce they have secured $10.3 million in construction interim financing for a 93-room Holiday Inn Express & Suites located in Rehoboth Beach, Delaware. MacKenzie presented several financing options, however the best execution for the borrower with respect to interest rate and terms was through a consortium of three local banks.  This represents the seventh hotel development capitalization financing arranged by MacKenzie Capital on the Mid-Atlantic seaboard in the last three years.
"In order to avoid becoming overexposed to a single asset class, lenders set internal allocation limits," stated Harman.  "Our team worked to coordinate a seamless transaction on the borrower's behalf, bringing together three different lending institutions to secure the capital required for the hotel development, without creating any additional impact to the borrower."
John Black, President of MacKenzie Capital added, "This represented our third opportunity to work with this borrower on a hotel development transaction.  Brendan did a great job orchestrating the due diligence and closing process with the three banks."
MacKenzie Capital, LLC ("MacCap") is a real estate capital advisory firm that commercial real estate owners, developers, and investors rely on for their debt, equity, and project financing needs.  Our creative, hands-on, and client-focused approach to capital advisory ensures that our clients are getting the most effective financing for their project in the current market.  For decades, our team of experienced advisors has successfully arranged financing for small and large projects of all property types throughout the country.    MacCap is an affiliate of The MacKenzie Companies, one of the Mid-Atlantic's largest independently-owned full-service commercial real estate firms that is based in Baltimore, Maryland.
For more information about MacKenzie Capital, please visit www.mackenziecommercial.com, or contact John Black at jblack@mackenziecommercial.com or 410.494.6652,  Will Goetschius at wgoetschius@mackenziecommercial.com, or202.341.6474, or  Brendan Harman at bharman@mackenziecommercial.com or 410.494.6656.