MacKenzie Sells Brown Memorial on Charles Street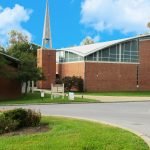 MacKenzie Commercial Real Estate Services, LLC is proud to announce the recent sale of Brown Memorial Presbyterian Church, situated at 6200 N. Charles Street, Baltimore, Maryland to Cambridge School.  The seven-acre site contains a 42,000 square foot building used as a school, church, and related office space. The property's zoning allowed for similar type uses or residential development for home sites; however, after further evaluation, keeping the property's existing use proved most beneficial for all involved parties, especially the new owner Cambridge School. MacKenzie Senior Vice President/Principal Bill Whitty and Vice President Jim Grieves represented the seller, Govans Presbyterian Church. Brown Memorial Church has recently merged with Govans, which was the reason that the property became available.
The buyer, Cambridge School, is an independent, classical and Christ-centered school serving students in Baltimore City and Baltimore County in grades K – 8.  The new campus location will allow the school to live out its mission and offer improved learning environments, maintain diversity, and provide the ability to serve more students with room to grow.
"We received strong interest in this property from the very start of our marketing efforts from a wide variety of interested parties," stated Grieves. "The location and uniqueness of the property created a competitive process and we were able to generate multiple offers. The offer from The Cambridge School was very strong and after a thorough due diligence period, it was determined that Cambridge would be the best and highest use for the property. The property is ideal to serve as their campus and further compliments the surrounding community."
John Blumenstein, the Head of Cambridge School stated, "Everything that Cambridge does and stands for can happen more effectively at the new campus. We have already received a warm welcome from neighbors who are excited to see the property owned by an institution that inspires hearts and minds to embrace the good, the beautiful, and the true."
Tom Harris, Pastor of Govans Presbyterian Church added, "Our church is very happy that the building will continue to be used for the education of children and worship. We are grateful that Cambridge School will be able to use the property for continued ministry."
For more information on Cambridge School, please visit www.cambridgeschool.org.  For sale or leasing inquiries contact Jim Grieves at jgrieves@mackenziecommercial.com or 443.573.3202, or Bill Whitty at 410.494.4862 or bwhitty@mackenziecommercial.com.
MacKenzie Ventures, LLC (MacKenzie) possesses the multi-disciplined team necessary to excel in Maryland's corporate real estate community. Comprising seven firms, MacKenzie provides clients a competitive, full service platform of offerings in leasing, sales, investment sales, tenant and landlord advisory services, corporate and business consulting, commercial and residential development, general construction, property and asset management, debt and equity capital placement, and market research.  With more than 225 employees and offices in Annapolis, Baltimore, Bel Air, Columbia, and Lutherville, Maryland, MacKenzie is one of the largest full service commercial real estate firms in the Mid-Atlantic. Please visit www.mackenziecommercial.com for more information.