MacKenzie Represents Sale and Redevelopment of Towson's Heaver Plaza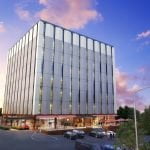 MacKenzie Commercial Real Estate Services, LLC is pleased to announce the recent sale of one of Towson's most recognizable buildings, Heaver Plaza, situated at 1301 York Road prominently off the I-695 interchange.  MacKenzie Vice President Sean Langford represented the buyer in the transaction, a local partnership.  Langford will also spearhead redevelopment efforts and retail leasing on the new ownership's behalf.
"It is exciting to be part of Heaver Plaza's redevelopment efforts," stated Langford.  "Once fully redeveloped, the building will be complimentary to the surrounding area, enhancing further the business and community offerings while providing tenants a trophy location.  We have already begun to receive numerous inquiries for the proposed ground-level retail."
Redevelopment plans for the 111,000 square foot building will include exterior renovations, upgraded common areas and building systems, landscaping improvements, and to enhance the property's offerings, developing more than 4,000 square feet of ground-level retail space.  The ground-level space will also include the addition of a patio area.  Long-time tenant and area staple, The Peppermill, will remain in operation at the building.  Updates are to begin next month and are expected to be completed by the end of 2019.
In addition to the retail enhancements, the property also presents the opportunity to develop up to four acres behind the main building.  For more information on Heaver Plaza's retail offerings or development opportunities, please contact Sean Langford at 443.573.3218 or slangford@mackenziecommercial.com.
###
MacKenzie Ventures, LLC (MacKenzie) possesses the multi-disciplined team necessary to excel in Maryland's corporate real estate community. Comprising seven firms, MacKenzie provides clients a competitive, full service platform of offerings in leasing, sales, investment sales, tenant and landlord advisory services, corporate and business consulting, commercial and residential development, general construction, property and asset management, debt and equity capital placement, and market research.  With more than 225 employees and offices in Annapolis, Baltimore, Bel Air, Columbia, and Lutherville, Maryland, MacKenzie is one of the largest full service commercial real estate firms in the Mid-Atlantic. Please visit www.mackenziecommercial.com for more information.