Chesapeake Bay Trust Purchases Headquarter Location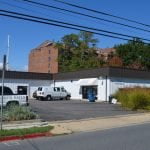 The Chesapeake Bay Trust (the "Trust"), a nonprofit grant‐making organization dedicated to improving the natural resources of Maryland and the Chesapeake region through outdoor environmental education, community engagement, and local watershed restoration has purchased 108 Severn Avenue in Annapolis, Maryland. Situated in Annapolis' famed Eastport neighborhood, the 10,000 square foot manufacturing building was home to a former sail loft. David McClatchy and Trish Farrell of MacKenzie Commercial Real Estate Services represented both the seller, Scott Allan, and the Trust.
The building is being repurposed into office space that will serve as the Trust's headquarter location and will keep with the maritime/environmental nature of the Eastport community. Phase I of the repurposing construction, completed in mid‐January, 2019,
was characterized by the conversion of a portion of the warehouse‐style building into usable office space to house Trust staff and serve as meeting space for the Trust's Technical Review Committees, through which they review grant proposals. The construction of
Phase I was awarded to MacKenzie Contracting Company, LLC by the Trust through a competitive bid process. Phase II of the construction project is still in the visioning stage; the Trust's ultimate long‐term vision is to convert the campus into a "green" space
with LEED or other similar certification and treat as close to 100% of stormwater as possible.
This new headquarter location is positioned within an eco‐centric hub, surrounded by numerous environmental nonprofits and governmental entities; it is a community that enjoys a historic water heritage rich with amenities within walking distance and
additional live, work, play office environments. 108 Severn Avenue was the last remaining sail loft in Annapolis where sails were assembled by hand. The Trust's re-adapted space will carry on the area's heritage.
"The Eastport neighborhood is going through a metamorphosis much like Baltimore's waterfront did, where previous manufacturing centers were adaptively repurposed for office, residential, and retail services," stated McClatchy. "It feels so great when a leading nonprofit steps up to continue the transformation of this waterfront jewel in an environmentally responsible way."
The Trust is looking forward to moving into the space that is now able to offer its staff a greater connection to the natural resources they are tasked with restoring and protecting, and a space that offers visitors a more authentic experience. "We are beyond thrilled
with this culture change," said Jana Davis, Executive Director of the Trust. "The new building will not only provide improved quality of life for staff due to the Eastport location – a quick paddle or bike ride at lunch, for example – but it will offer the Trust a greater
presence in the community to showcase our mission of providing the resources needed to restore and protect the Chesapeake and other natural resources in our region."
For more information on the Chesapeake Bay Trust, visit www.cbtrust.org. Leasing or sale inquiries, contact David McClatchy at dmcclatchy@mackenziecommercial.com or 410.953.0366, or Trish Farrell at tfarrell@mackenziecommercial.com or 410.974.9003.
For contracting services, please contact Joe Versey at 443.610.7507 or jversey@mackenziecontracting.com.
###
MacKenzie Ventures, LLC (MacKenzie) possesses the multi-disciplined team necessary to excel in Maryland's corporate real estate community. Comprising seven firms, MacKenzie provides clients a competitive, full service platform of offerings in leasing, sales, investment sales, tenant and landlord advisory services, corporate and business consulting, commercial and residential development, general construction, property and asset management, debt and equity capital placement, and market research.  With more than 225 employees and offices in Annapolis, Baltimore, Bel Air, Columbia, and Lutherville, Maryland, MacKenzie is one of the largest full service commercial real estate firms in the Mid-Atlantic. Please visit www.mackenziecommercial.com for more information.
The Chesapeake Bay Trust (www.cbtrust.org) is a nonprofit grant-making organization established by the Maryland General Assembly dedicated to improving the natural resources of Maryland and the Chesapeake region through environmental education, community engagement, and local watershed restoration. The Trust's grantees engage hundreds of thousands of individuals annually in projects that have a measurable impact on the waterways and other natural resources of the region. The Trust is supported by the sale of the Treasure the Chesapeake license plate; donations to the Chesapeake Bay and Endangered Species Fund on the Maryland State income tax form; contributions to the Maryland Outdoor Recreation and Clean Waters Fund through Maryland's online boat registration, hunting license, and fishing license system; donations from individuals and corporations; and partnerships with private foundations and federal, state, and local governments. The Trust has received the highest rating from Charity Navigator for fifteen years: 92 percent of the Trust's expenditures are directed to its restoration and education programs.