MacKenzie Corporate Advisory, LLC Hires Brady Walker as President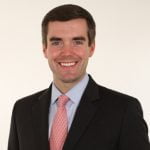 The MacKenzie Companies are pleased to announce that Brady Walker has joined the firm and will be President of the firm's newly established business consulting division, MacKenzie Corporate Advisory, LLC.  This recent appointment has been recognized in response to the needs of MacKenzie's ever-growing client base and will further propel the firm's competitive, full-service platform not only throughout the State of Maryland, but the Mid-Atlantic region.
Prior to joining MacKenzie, Walker served as Managing Director and Special Advisor in the Office of the Secretary at the Maryland Department of Commerce.  In this role, he provided leadership and guidance for major statewide initiatives, long-term strategic planning, and day-to-day departmental operations.  Walker has been a key advisor and strategist as the Department developed programs and strategies designed to support the growth of Maryland's diverse array of innovative industries including, among others, cyber and cybersecurity, bio-health and life sciences, aerospace and defense, and advanced manufacturing. In addition, he helped to lead high profile corporate attraction and retention efforts for Marriott, Northrop Grumman, and Amazon HQ2.  Before his Commerce role, Walker held roles in the legal and energy sectors, working as in-house counsel at Constellation Energy Group, Inc. (now an Exelon Corporation Company), and at the North American Electric Reliability Corporation.  Walker also worked in the Washington, DC office of Womble Carlyle Sandridge & Rice, LLP (now Womble Bond Dickinson).
"The MacKenzie full-service platform provides a unique and powerful combination of unparalleled knowledge of our region's commercial real estate market, innovative and data-driven solutions, and experienced economic professionals that are able to assist the needs of our client base that spans multiple industries throughout the State of Maryland and Mid-Atlantic Region," stated Gary Gill, CEO of MacKenzie Ventures, LLC.  "We are excited to welcome Brady to the MacKenzie Team and honored that we have been afforded the opportunity to further provide strategic advisory services our clients rely upon in establishing successful business endeavors, ultimately propelling their long-term success."
While corporate consulting has always been an element of MacKenzie's platform of services, Walker's role as President of Corporate Advisory will better streamline efforts, while more effectively supporting clients in the development of their business objectives and provide additional leadership and guidance to each MacKenzie affiliate with regards to business development initiatives, client communications, and strategic planning.  Additionally, with the establishment of this division, MacKenzie is better positioned as a "go-to" comprehensive business consultancy in the Baltimore, Washington, and Northern Virginia region.  MacKenzie Corporate Advisory will provide an array of expertise to assist large, complex business organizations, institutions, and governmental agencies with strategic planning, workforce and asset mapping, thoughtful site selection, navigation of business tax credit and incentive programs, and governmental regulatory and permitting processes.  The division will work with clients that span a wide range of industries with particular awareness made to all state and local economic development agencies and affiliated entities.
"Brady's experience and ability to develop solutions for businesses spanning a multitude of industries and levels of leadership within the public and private sectors will further complement the offerings of MacKenzie's trusted advisors," stated Scott Wimbrow, President of MacKenzie's Brokerage Division.  "We welcome him to the team and look forward to working with him."
###
MacKenzie Ventures, LLC (MacKenzie) possesses the multi-disciplined team necessary to excel in Maryland's corporate real estate community. Comprising seven firms, MacKenzie provides clients a competitive, full service platform of offerings in leasing, sales, investment sales, tenant and landlord advisory services, corporate and business consulting, commercial and residential development, general construction, property and asset management, debt and equity capital placement, and market research.  With more than 225 employees and offices in Annapolis, Baltimore, Bel Air, Columbia, and Lutherville, Maryland, MacKenzie is one of the largest full service commercial real estate firms in the Mid-Atlantic. Please visit www.mackenziecommercial.com for more information.