MacKenzie to Manage Windsor Station and Oxford Square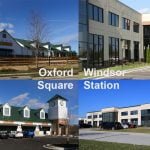 Local development firm Preston Scheffenacker Properties has engaged MacKenzie Management Company, LLC, the full-service property management arm of MacKenzie Ventures, to manage two of their properties totaling more than 245,000 square feet of office and retail space.  Windsor Station, located at 2810 Lord Baltimore Drive in Woodlawn, and Oxford Square, located at 7005 Banbury Drive (formerly known as 7301 Coca Cola Drive) in Hanover are 230,842 square feet and 15,000 square feet, respectively.  Windsor Station's lead tenants include Northrop Grumman and General Services Administration; Baltimore Coffee & Tea and Little Eggs Child Care occupy space at Oxford Square. MacKenzie Senior Property Manager Kati Coles will be overseeing the management efforts.  MacKenzie's brokerage division is also responsible for leasing efforts for the properties.
MacKenzie's property management services will include managing both the day-to-day physical management of the properties, as well as book keeping, financial record keeping, and customer service with the tenants.  These responsibilities will comprise lease abstraction and administration, accounts payable and receivable, reporting, contracting and oversight of third-party service providers, and supervision and maintenance of the building systems.  MacKenzie will address day-to-day concerns of tenants and provide first point of contact for all tenant-related concerns, enhancing landlord/tenant relations and ultimately strengthening the buildings' long-term success.
"We are excited for this opportunity and look forward to working with the Preston Scheffenacker team," stated Brendan Gill, President of MacKenzie Management, LLC.  "These are wonderful assets with a great group of tenants; I'm eager to see what our team can do to help Preston Scheffenacker accomplish their goals with the investments."
MacKenzie manages over 10 million square feet of commercial real estate space for a variety of local, regional and national owners spanning all asset classes.  MacKenzie's management strategies are customized, full-service plans tailored to the unique needs of each property and ownership group.  Services can range from all-inclusive asset management to versatile a-la-carte services that can complement existing procedures.  For additional information on MacKenzie Management, please visit www.mackenziecommercial.com.
###
MacKenzie Ventures, LLC (MacKenzie) possesses the multi-disciplined team necessary to excel in Maryland's corporate real estate community. Comprising seven firms, MacKenzie provides clients a competitive, full service platform of offerings in leasing, sales, investment sales, tenant and landlord advisory services, corporate and business consulting, commercial and residential development, general construction, property and asset management, debt and equity capital placement, and market research.  With more than 225 employees and offices in Annapolis, Baltimore, Bel Air, Columbia, and Lutherville, Maryland, MacKenzie is one of the largest full service commercial real estate firms in the Mid-Atlantic. Please visit www.mackenziecommercial.com for more information.