Due Diligence Matters: HVAC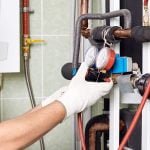 Buyers of properties should be aware of the refrigerants used in any assets they are acquiring, so that associated costs can be appropriately budgeted. This is an issue that should be a high priority during due diligence. Owners of properties with older systems will have choices to make when repairing them and may determine that an HVAC replacement is a more cost-effective long-term solution.
R-22 (also known as HCFC-22) is an ozone-depleting refrigerant which has been widely used in HVAC systems. Under EPA mandate, production of new systems that use R-22 ended in 2010. Manufacturing of the refrigerant itself will end by January 1, 2020, so there is a limited lifespan for units that use R-22, and higher costs related to decreasing supply.
Preparing for the phase out can save you time and money. MacKenzie Management's professionals can help you evaluate your systems and plan for the best course of action with a thorough analysis of your options.
Considerations:
What are the costs associated with system upgrades or replacement?
How can you prepare for (or avoid) potential loss of rental income – and inconvenience to tenants – during the downtime while units are repaired or replaced?
What are the significant transition dates for the phase out?
Are there legal ramifications of not switching?
How can you verify whether your system uses R-22?
Is the replacement refrigerant you are considering EPA approved?
Is retrofitting an option?
YOUR PARTNER IN BUILDING ASSET VALUE
For an HVAC evaluation, contact us by phone or e-mail:
Brendan Gill, President | MacKenzie Management Company, LLC | bgill@mackenziemanagement.com | 410.494.4889
Joyce Frank, Executive Vice President | MacKenzie Management Company, LLC | jfrank@mackenziemanagement.com | 410.494.4831