THB Neighborhood Bagelry + Deli Announces Opening of 6th Location in MD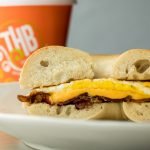 THB Propels Growth into 2020 with a New Location Coming to Owings Mills
BALTIMORE November 5, 2019 — THB Neighborhood Bagelry + Deli, winner of multiple "Best of Baltimore" awards for its handcrafted, New York-style bagels and deli sandwiches, announces the opening of its sixth restaurant location at Mill Station in Owings Mills for the Summer of 2020.
"We are very excited to be a part of the revitalization taking place with Mill Station," said Ciro Scotto, co-owner and Director of Facilities and Real Estate of THB. "We have been very thoughtful in determining the road map for future THB locations, and our team felt especially passionate about joining the Owings Mills community."
This announcement comes fresh on the heels of unveiling their fifth location, which is set to open at Columbia Crossing Shopping Center in Howard County early next year. Kimco Realty Corporation owns and manages both the Columbia Crossing and Mill Station properties. THB was represented by Michael Gioioso and Henry Deford of MacKenzie Retail, LLC in securing the two new locations.
"THB's vision for expansion extends well past 2020, with plans to open two additional locations annually through 2025 in Maryland and nationally," stated Henry Deford, Vice President with MacKenzie Retail. "We are excited for THB's continued success and look forward to working with them to find their next opportunity."
In September, THB Neighborhood Bagelry + Deli celebrated a separate milestone with the 20th Anniversary of the restaurant's original location in Towson, Maryland. Festivities included an awards ceremony with Maryland dignitaries, an outdoor concert, and the relaunch of their mobile ordering and rewards app, myTHB. The myTHB app is available for download in the Apple and Google Play stores.
Follow THB Neighborhood Bagelry + Deli on Facebook, Instagram, and Twitter and learn more at eatTHB.com.