MacKenzie Welcomes Grace Fennessy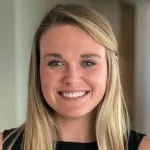 MacKenzie Commercial Real Estate Services, LLC is proud to announce that Grace Fennessy has joined their brokerage team as a Real Estate Advisor.  Working from the firm's Harford County office in Bel Air, Maryland, Grace will partner with industry veterans Senior Vice President Beetle Smith and Senior Vice President Tom Mottley, specializing in the sale and leasing of commercial real estate throughout Harford County and the surrounding region.  She will also support the team's tenant representation efforts which includes local, regional, and national accounts, provide clients necessary market analysis and updates, and support business development efforts.
"We are pleased that Grace decided to join our team," stated Mottley. "Her enthusiasm, work-ethic, and experience are all qualities that will further enhance our team's offerings, providing our clients the support they have come to rely upon."
Prior to joining MacKenzie, Grace worked as a Client Services Coordinator for CBRE's Baltimore Mid-Atlantic Transaction Team and supported strategic planning, portfolio/lease administration, transaction management, project management, and facility management. She also oversaw the recording, tracking, and monitoring of brokers' transactions and listings.  Grace's experience also includes working as an account coordinator for R2integrated in Baltimore where she was responsible for maintaining documentation, project plans, and supporting client communications.  Grace also held marketing internships during college.  Born and raised in Harford County, Maryland, Grace is a graduate of The Bryn Mawr School and holds a Bachelor of Arts degree in English from St. Mary's College of Maryland.
"As our firm's footprint in the region continues to grow and in continuing our commitment to providing premier advisory services, we build our teams accordingly with the talent and mindset necessary to foster the success of our clients," stated Scott Wimbrow, President of MacKenzie Commercial Real Estate Services, LLC. "I am excited to have Grace join our team and look forward to working with her."
For more information on MacKenzie, please visit www.mackenziecommercial.com.
###
MacKenzie Ventures, LLC (MacKenzie) possesses the multi-disciplined team necessary to excel in Maryland's corporate real estate community. Comprising seven firms, MacKenzie provides clients a competitive, full service platform of offerings in leasing, sales, investment sales, tenant and landlord advisory services, corporate and business consulting, commercial and residential development, general construction, property and asset management, debt and equity capital placement, and market research.  With more than 225 employees and offices in Annapolis, Baltimore, Bel Air, Columbia, and Lutherville, Maryland, MacKenzie is one of the largest full service commercial real estate firms in the Mid-Atlantic. Please visit www.mackenziecommercial.com for more information.