MacKenzie Represents Levin & Gann, P.A.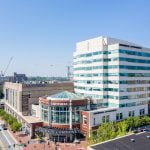 MacKenzie Commercial Real Estate Services, LLC is pleased to announce that Levin & Gann, P.A., one of the largest full-service law firms headquartered in Towson, Maryland has signed a lease for 11,641 square feet at Towson Commons, situated at One West Pennsylvania Avenue. The firm is relocating just a short distance from its current location at 502 Washington Avenue. MacKenzie Senior Vice President Karen Deeley represented Levin & Gann in the transaction. The landlord was represented by Cushman & Wakefield.
Levin & Gann has been a tenant in the Towson market for more than 20 years. The firm sought a new space that would provide an updated, more modern feel within the immediate area and allow them to serve their extensive client roster which includes several 4th generation clients and encompasses a wide variety of local and international businesses. It was important they remain close to the County courthouse and have immediate access to secure parking and area amenities. Situated in the heart of downtown Towson, the 330,000 square foot Towson Commons office and retail building fulfilled these requirements. The building also featured recently completed renovations of all common areas including lobbies, elevators, and restrooms on each floor.
 "After 20 years in one location, maintaining our Towson presence was of utmost importance to the firm. We looked at renovating our current location but also wanted to understand what additional market opportunities were available," stated Debra Cruz, Managing Member. "Karen Deeley advised us on availabilities, current office trends, layout considerations, and overall, provided our team with in-depth market knowledge that led us to making a decision that was in the best interest of our firm, and more importantly, our clients."
For more information on MacKenzie's tenant representation services, please contact Karen Deeley at 410-494-4871 or kdeeley@mackenziecommercial.com.
Levin & Gann, P.A. For more than a century, Levin & Gann, P.A. (L&G) has developed and maintained a stellar reputation as a top-tier, full-service law firm in Maryland. Our clients are as diverse as they are plentiful, encompassing a wide variety of local and international businesses; not-for-profit organizations; estates and trusts; and individuals. With personalized attention, creativity, and aggressive pursuit of our clients' needs and goals, we consistently exceed expectations. For more information, visit www.levingann.com.
###
MacKenzie Ventures, LLC (MacKenzie) possesses the multi-disciplined team necessary to excel in Maryland's corporate real estate community. Comprising seven firms, MacKenzie provides clients a competitive, full service platform of offerings in leasing, sales, investment sales, tenant and landlord advisory services, corporate and business consulting, commercial development, general construction, property and asset management, multifamily property management, debt and equity capital placement, and GIS/Data Analytics.  With more than 225 employees and offices in Annapolis, Baltimore, Bel Air, Columbia, and Lutherville, Maryland, MacKenzie is one of the largest full service commercial real estate firms in the Mid-Atlantic. Please visit www.mackenziecommercial.com for more information.