MacKenzie Contracting Promotes Mike Lambert to Vice President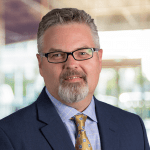 MacKenzie Contracting Company, LLC is pleased to announce the recent promotion of Mike Lambert to Vice President. The promotion recognizes Mike's continued contributions at Anne Arundel Medical Center, Anne Arundel Physical Therapy, The Shops at Iverson, along with his many other projects and repeat clients that have all contributed to the company's success over the last several years.
"Mike continues to set the standard that we expect from our team members and has become an integral part of our team's success. He played a major role in establishing our company's COVID-19 policy that has been adopted for use by Anne Arundel Medical Center," stated Marty Copsey, President and COO of MacKenzie Contracting Company, LLC. "His passion and innovative approach are apparent; he continues to explore and embrace technology that will help us move forward successfully in an everchanging landscape in the construction industry."
Lambert joined the firm in 2017 as a Senior Project Manager where his day-to-day responsibilities included preparing conceptual and competitive bid estimates, contract and sub-contract negotiations, change order requests, participation in status meetings with client representatives, project adherence to schedule, expediting permits, and coordination with project superintendents. His continuous efforts and dedicated work ethic have proven to be a crucial part to the MacKenzie Contracting team.
Established in 1988, MacKenzie Contracting Company, LLC is an award-winning, full-service general contracting and construction management firm offering a full range of pre-construction, general contracting, ground-up construction, renovations, and project management assistance. Large enough to manage any size job, yet small enough to provide personalized attention, MacKenzie Contracting's extensive experience spans an array of industries including healthcare, retail, general business, senior living, defense, and manufacturing for local and national clients throughout the Mid-Atlantic region. The team emphasizes control over schedule and craftsmanship with a primary mission to deliver consistently superior services in the most cost-effective way possible. For more information on MacKenzie Contracting Company, LLC, please visit www.mackenziecontracting.com or contact Marty Copsey at 443.798.9380 or mcopsey@mackenziecontracting.com.
###
MacKenzie Ventures, LLC (MacKenzie) possesses the multi-disciplined team necessary to excel in Maryland's corporate real estate community. Comprising seven firms, MacKenzie provides clients a competitive, full service platform of offerings in leasing, sales, investment sales, tenant and landlord advisory services, corporate and business consulting, commercial and residential development, general construction, property and asset management, debt and equity capital placement, and market research.  With more than 150 employees and offices in Annapolis, Baltimore, Bel Air, Columbia, and Lutherville, Maryland, MacKenzie is one of the largest full service commercial real estate firms in the Mid-Atlantic. Please visit www.mackenziecommercial.com for more information.