MacKenzie Capital Secures Historically Low Rate Refinancing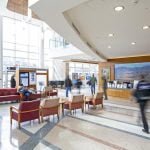 MacKenzie Capital, LLC is pleased to announce they have secured refinancing for two medical office buildings totaling 89,000 square feet, one located in Baltimore County and one in Harford County. The two loans totaling approximately $17 million were fixed for 10 years, both with rates under 2.30%. MacKenzie Capital President John Black and Vice President Brendan Harman worked with the client to provide them with the most advantageous loan structure for their current commercial real estate needs in a market that remains volatile.
Despite the macroeconomic environment, healthcare assets have performed well and will continue to do so in the future. MacKenzie Capital was able to successfully leverage the strong position of the properties in the market by emphasizing demographic trends, barriers to entry, and strong tenant performance.
"Activity within the commercial real estate capital markets has been very active despite the challenges created by the on-going pandemic. We are seeing a bifurcated market with fluctuating capital providers" stated Harman. "We were thrilled to help our client obtain historic low interest rate refinancing on their properties." John Black added, "In my 40-year career, these are the lowest long-term fixed rates I have ever seen."
MacKenzie Capital, LLC is a real estate capital advisory firm that commerc­­­ial real estate owners, developers, and investors rely on for their debt, equity, and project financing needs.  Our creative, hands-on, and client-focused approach to capital advisory ensures that our clients are getting the most effective financing for their project in the current market.  For decades, our team of experienced advisors has successfully arranged financing for small and large projects of all property types throughout the country. MacKenzie Capital is an affiliate of The MacKenzie Companies, one of the Mid-Atlantic's largest independently owned full-service commercial real estate firms that is based in Baltimore, Maryland.
For more information about MacKenzie Capital's offerings, please visit www.mackenziecommercial.com, or contact John Black at jblack@mackenziecommercial.com or 410.494.6652; or, Brendan Harman at bharman@mackenziecommercial.com or 410.494.6656.
###
MacKenzie Ventures, LLC (MacKenzie) possesses the multi-disciplined team necessary to excel in Maryland's corporate real estate community. Comprising seven firms, MacKenzie provides clients a competitive, full service platform of offerings in leasing, sales, investment sales, tenant and landlord advisory services, corporate and business consulting, commercial development, general construction, property and asset management, multifamily property management, debt and equity capital placement, and GIS/Data Analytics.  With more than 225 employees and offices in Annapolis, Baltimore, Bel Air, Columbia, and Lutherville, Maryland, MacKenzie is one of the largest full service commercial real estate firms in the Mid-Atlantic. Please visit www.mackenziecommercial.com for more information.