Industrial Leasing in the Current Climate: An Overview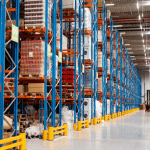 Commercial real estate during the pandemic has surely had its ups and downs, but it is our job to highlight the constants amid the chaos. As we kick off a new year, we're unpacking market trends to provide you with industrial and warehouse leasing insights. To learn more about how industrial and warehouse leasing has stepped up to the forefront amid an unpredictable year, continue reading below.
E-Commerce Spikes Lead to Increased Need for Industrial Space
According to the Commercial Observer, "If there's one undisputed commercial real estate winner during this god awful pandemic, it's warehouse/industrial space." This can be attributed to our society's ever-growing need for warehouse space and storage facilities, a demand that has only intensified during the pandemic. More consumers are shifting to online modalities in order to purchase goods, vastly increasing the need for e-commerce entities like Amazon to acquire more industrial real estate for manufacturing and last-mile delivery sites—the e-commerce beast opened 100 warehouses nationwide in the month of September alone.
According to GlobeSt, the pandemic has not only stabilized but accelerated the need for industrial space. We could see an increased demand for more domestic production facilities as a result of pandemic-induced global supply chain disruptions as well, which means an increased need for warehouses for reshoring and nearshoring goods.
Industrial and Flex Space Provides Value for Housing Storage and Running Pop-Up Businesses
The fact of the matter is, industrial warehousing is becoming a first-rate priority for investors. In addition to e-commerce manufacturing, many former recycling warehouses are now being converted into pop-up grocery home delivery services. As more individuals and families turn to grocery delivery in order to avoid supermarkets, these entities have required more warehouse space in order to meet the demand. This trend has also meant a surge in demand for cold storage to house food and beverages. Many food, produce and beverage delivery services may be looking to lease industrial spaces near more populated areas to accommodate the volume of customers and guarantee speedy delivery. Ultimately, like data centers, which have been relatively unafflicted due to the increased need for their services during the pandemic, industrial properties have also weathered the storm relatively unscathed thus far and have even seen increased demand. 
Get in Touch with the Industrial Team at the MacKenzie Companies
At the MacKenzie Companies, our industrial team offers extensive experience fueled by innovative, data-driven strategies. We represent landlords and tenants on local and regional levels in the Mid-Atlantic and offer facility acquisition and disposition, supply chain and logistics consulting, site location work, and representing lease and sale negotiations. Our client-base for industrial leasing comprises e-commerce distribution, technology, storage facilities, manufacturing, and much more. To get in touch with a member of our team, call 410-821-8585 or contact us today here.