MacKenzie Expands Columbia Footprint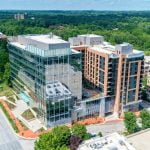 The MacKenzie Companies are pleased to announce the recent expansion of their Columbia, Howard County, Maryland office. Still prominently positioned in the downtown Columbia market, the new office is located at Little Patuxent Square, 10175 Little Patuxent Parkway. Nearly doubling their footprint in size, this location will include members of MacKenzie's brokerage, property management, and contracting divisions, allowing the firm's full-service offerings to better serve their growing client base throughout the Baltimore Washington Corridor and position them for future growth. Office build-out and move-in was completed last week.
"Nearly 2 million of the roughly 10 million square feet in our management portfolio is in the Columbia market; having a physical presence was vital," stated Brendan Gill, President of MacKenzie Management Company, LLC. "The new space is beautiful and being together with our brokerage and contracting divisions on a full-time basis will facilitate teamwork and better all-around service to the clients of the entire MacKenzie organization."
MacKenzie's brokerage division has maintained a Columbia presence for years, this new location will include eight brokers and marketing support, with room to expand. This is however the first satellite office for property management and contracting. Scott Wimbrow, President of MacKenzie Commercial Real Estate Services, commented, "Collaboration across our full-service platform is a large part of MacKenzie's success; having expanded industry knowledge sitting right down the hall will prove beneficial not only to our brokers, but more importantly our clients."
"We are excited about the chance to work on a daily basis with our brokerage and property management divisions under one roof," stated Marty Copsey, President & COO of MacKenzie Contracting Company, LLC. "The synergy this creates will benefit all of our divisions moving forward. We feel Little Patuxent is the perfect location to service our existing clients in the Howard County area and supports our planned expansion down the 29 Corridor and into the DC market."
Owned and developed by Costello Construction and located in the epicenter of Downtown Columbia, Maryland, Little Patuxent Square is an exciting mixed-use project that features class A office space, retail space, below-grade parking, an open-air courtyard, and 160 luxury apartment residences complete with a rooftop pool. For more information on Little Patuxent Square, or MacKenzie's full-service offerings, please visit www.mackenziecommercial.com.
###
MacKenzie Ventures, LLC (MacKenzie) possesses the multi-disciplined team necessary to excel in Maryland's corporate real estate community. Comprising seven firms, MacKenzie provides clients a competitive, full-service platform of offerings in leasing, sales, investment sales, tenant and landlord advisory services, corporate and business consulting, commercial development, general construction, property and asset management, multifamily property management, debt and equity capital placement, and location intelligence.  With more than 225 employees and offices in Annapolis, Baltimore, Bel Air, Columbia, and Lutherville, Maryland, MacKenzie is one of the largest full service commercial real estate firms in the Mid-Atlantic. Please visit www.mackenziecommercial.com for more information.