ABC Baltimore Recognizes MacKenzie Contracting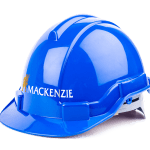 MacKenzie Contracting Company, LLC is pleased to announce that they have been awarded the STEP Diamond Safety Award by The Associated Builders and Contractors (ABC) Baltimore, a national construction industry trade association. MacKenzie Contracting has received ABC's recognition for the past 18 years, receiving their Awards of Excellence, STEP Gold Level Safety Awards, STEP Platinum Level Safety Awards, and now their highest, Diamond, for three consecutive years. The STEP Diamond Award recognizes companies that exhibit a continued commitment to jobsite safety and whose safety performance and programs are judged to be exemplary by the ABC National Safety and Health Committee. STEP is a world-class safety management system that dramatically improves safety performance among participants regardless of company size or type of work.
Safety is, and has always been, a top priority for the company. In 2020, MacKenzie Contracting completed projects that span numerous industries including healthcare, retail, office, and senior living, despite facing the hardships of COVID-19. Because of the pandemic, MacKenzie Contracting enacted new, zero-tolerance, safety policies including hand washing stations, temperature checks, social distancing, and the use of PPE, to maintain onsite safety for not only their employees and subcontractors, but for their clients as well. The policy that MacKenzie Contracting has created has been adopted by one of their top healthcare institute clients and is now being followed by other general contractors working on their campus.
"I contribute the ongoing success of our safety program to the hard work of our Safety Director, Bill Gardini, as well as the diligent efforts of our project managers and superintendents on a daily basis," stated Marty Copsey, President and COO for MacKenzie Contracting. "Safety is a key component to our project approach and is more important now than ever to our clients, subcontractors, and vendors during the pandemic."
MacKenzie Contracting Company, LLC, established in 1988, is an award-winning, full-service general contracting and construction management firm offering a full range of pre-construction, general contracting, ground-up construction, renovations, and project management assistance for our clients. Emphasizing control over schedule, safety, and quality, our primary goal is to deliver the highest standard of craftsmanship in the most cost-effective way possible by delivering on time and within budget. Large enough to manage any size job, yet small enough to provide personalized attention, MacKenzie Contracting offers more than 300 years of combined experience, making our skilled project managers and superintendents a rare asset in today's market.
For additional information on MacKenzie Contracting, please visit www.mackenziecontracting.com or contact Autumn Hill at 410.596.9986 or ahill@mackenziecontracting.com.
###
MacKenzie Ventures, LLC (MacKenzie) possesses the multi-disciplined team necessary to excel in Maryland's corporate real estate community. Comprising seven firms, MacKenzie provides clients a competitive, full service platform of offerings in leasing, sales, investment sales, tenant and landlord advisory services, corporate and business consulting, commercial development, general construction, property and asset management, debt and equity capital placement, and location intelligence.  With more than 225 employees and offices in Annapolis, Baltimore, Bel Air, Columbia, and Lutherville, Maryland, MacKenzie is one of the largest full service commercial real estate firms in the Mid-Atlantic. Please visit www.mackenziecommercial.com for more information.