MacKenzie Capital Refinances Portfolio of 10 Properties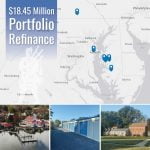 MacKenzie Capital, LLC is pleased to announce they secured refinance proceeds for 10 assets with seven separate loans from two different lenders. The assets included nearly 100,000 sf of office/retail/flex space, a 54-slip marina, 32 multifamily units, and 553 self-storage units. The assets are in diverse submarkets such as southern Pennsylvania, the Eastern Shore, and Annapolis. The loans totaled $18.45 million. MacKenzie Capital President John Black and Vice President Brendan Harman worked with Justin Nonemaker and Eric Zagorsky of ShoreGate Partners, a privately held real estate company based in Easton, MD. ShoreGate Partners was represented by Doug Walker of McAllister, Detar, Showalter & Walker.
Sponsorship was able to rate lock a balance sheet transaction prior to the recent increase in rates to refinance the portfolio to reduce interest rate refinance risk and increase cash flow to investors. "Given the complexity of the portfolio due to its diversity of uses, submarkets, and leverage, the process was a balancing act between ease of execution and best available terms," stated Harman. "It was a pleasure working with Eric and Justin, as well as their counsel Doug who was instrumental in getting the loans closed in an efficient manner," elaborated Harman.
MacKenzie Capital, LLC is a real estate capital advisory firm that commerc­­­ial real estate owners, developers, and investors rely on for their debt, equity, and project financing needs. Our creative, hands-on, and client-focused approach to capital advisory ensures that our clients are getting the most effective financing for their project in the current market.  For decades, our team of experienced advisors has successfully arranged financing for small and large projects of all property types throughout the country. MacKenzie Capital is an affiliate of The MacKenzie Companies, one of the Mid-Atlantic's largest independently owned full-service commercial real estate firms that is based in Baltimore, Maryland.
ShoreGate Partners is a privately held vertically integrated real estate firm based out of Easton, Maryland. Founded in 2012 by Eric Zagorsky and Justin Nonemaker, ShoreGate Partners targets the Mid-Atlantic and Southeast regions focusing on assets from $1 Million to $20 Million in value seeking to generate strong cash-on-cash returns for a select group of private investors.
For more information about MacKenzie Capital's offerings, please visit www.mackenziecommercial.com, or contact John Black at jblack@mackenziecommercial.com or 410.494.6652; or, Brendan Harman at bharman@mackenziecommercial.com or 410.494.6656.
###
MacKenzie Ventures, LLC (MacKenzie) possesses the multi-disciplined team necessary to excel in Maryland's corporate real estate community. Comprising seven firms, MacKenzie provides clients a competitive, full service platform of offerings in leasing, sales, investment sales, tenant and landlord advisory services, corporate and business consulting, commercial development, general construction, property and asset management, multifamily property management, debt and equity capital placement, and GIS/Data Analytics.  With more than 225 employees and offices in Annapolis, Baltimore, Bel Air, Columbia, and Lutherville, Maryland, MacKenzie is one of the largest full service commercial real estate firms in the Mid-Atlantic. Please visit www.mackenziecommercial.com for more information.