Josef's of Easton Leases at Waterside Village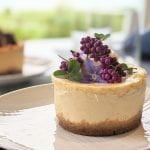 MacKenzie Commercial Real Estate Services, LLC is pleased to announce that Josef's of Easton, Inc., a gourmet dessert shop that specializes in cheesecake, has signed a lease for 1,400 square feet at Waterside Village in Easton, Talbot County, Maryland. Located on Marlboro Avenue, just inside the center's main entrance, this will be gourmet shop's first East Coast location. The MacKenzie team of John Schultz, Mike Ruocco, and Tim Harrington represented the landlord in the transaction.
Led by award-winning Chef Gregory James, Josef's of Easton will be the third of its kind, joining locations in Chippewa, WI, and Perry, OK. Each location is not the same; however, they share a common vision of carrying on the family's culinary legacy and late father's name. Chef Gregory brings more than 28 years of culinary experience to Maryland's Eastern Shore, a resident now since January 2019. He began his career cooking at his family's restaurant and currently works at Stars Restaurant at the historic Inn at Perry Cabin. Prior to moving to Easton, Chef Gregory worked in Napa Valley at two luxury resorts where he was an executive chef overseeing all culinary operations. He has worked in Charleston, SC, Scottsdale, AZ, Minneapolis, MN, New York, and France. Josef's of Easton's grand opening is slated for June 1, 2021.
The shop's slogan is "Josef's doesn't just make cheesecakes; we make them better." Their signature item, a 10 oz cheesecake cupcake, are handmade in small batches and come in a variety of flavors. They will be available for sale in their new location, wholesale, online, and at local farmer's markets. "I am delighted to bring my family's cheesecake recipe that is inspired by locally sourced ingredients to the Eastern Shore," stated Chef Gregory James.
For more information on the offerings of Josef's of Easton, visit www.josefsofeaston.com. For retail or office leasing inquiries at Waterside Village, please contact Tim Harrington at timharrington@mackenziecommercial.com or 410.494.4855 or Morgan Wimbrow at mwimbrow@mackenziecommercial.com or 410.494.4846.
###
MacKenzie Ventures, LLC (MacKenzie) possesses the multi-disciplined team necessary to excel in Maryland's corporate real estate community. Comprising six firms, MacKenzie provides clients a competitive, full service platform of offerings in leasing, sales, investments, tenant and landlord advisory services, development, general construction, property and asset management, debt and equity capital placement, and location intelligence.  With more than 225 employees and offices in Annapolis, Baltimore, Bel Air, Columbia, and Lutherville, Maryland, MacKenzie is one of the largest full service commercial real estate firms in the Mid-Atlantic. Please visit www.mackenziecommercial.com for more information.