Are Outdoor Spaces Here To Stay? Commercial Property Owners Are Banking On It.
For many Baltimore area real estate owners, adapting to restricted capacity regulations during the pandemic meant adding or expanding their outdoor spaces. Now that restrictions have loosened, property managers at MacKenzie Management say owners are realizing their customers want this access to the outdoors to be permanent – and are willing to invest in it.
"Patrons are finally allowed to come back in higher numbers, and their appreciation for outdoor venues has grown. We're thrilled, and we need to be ready for it,'' said Brendan Gill, President of MacKenzie Management. He noted that the property management team at MacKenzie has been busy working at Belvedere Square, Cross Street Market, Towson City Center, and other like projects to enhance outdoor dining experiences, expand seating areas and bring back popular events.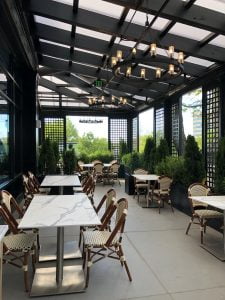 "The pandemic taught us that people love outdoor dining and entertainment, and our clients are capitalizing on that lesson by making longer term investments to cater to that," observed Jill Whitty of MacKenzie, who manages Belvedere Square in northern Baltimore City. "We are now double-blessed with restrictions lifting and warm weather, so the timing's been perfect to expand and improve those outdoor experiences we created during COVID." For example, Whitty recently extended the shopping center's outdoor dining area into the southwest courtyard. Lined with planters filled with tropical flowers, she was able to add 10 extra tables which expands seating by 40. In addition, plans to add sail shades will ensure diners are protected from the sun. "We have both heat lamps for chilly weather and umbrellas for summer shade, but the sail shades in the new courtyard will add even more coverage and lend a more intimate feel to the dining experience" she noted. And now that social distancing mandates have changed, popular events like Belvedere Square's Summer Sounds concerts, held the last Friday of each month, have returned. MacKenzie's Lauren Bubb, who handles events at the project, says "Our patrons were asking for this, and so were the tenants. The pandemic really crushed foot traffic; we depend on these events, so we couldn't be more excited to bring them back," Bubb said. The popular Belvedere in Bloom, a craft market with local vendors and live music, will return as well on June 5th.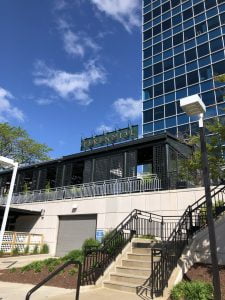 Whitty, who also manages Cross Street Market, says its popular outdoor Farmers Market is returning for its 3rd season, and will be held every Saturday morning from May through October. Although the event started before the pandemic, it's being ramped up with live music and additional vendors, with more emphasis on local. The merchant mix, which includes some market tenants, is expected to grow to nearly two dozen vendors each week. Whitty pointed out that the new rooftop restaurant Watershed, which opened Memorial Day weekend, will also add to the foot traffic they have so desperately missed. "This pandemic has really taken a toll on retailers, but we've had a lot of local support that has kept us running to this point. Now, while still following guidelines, we feel we can safely get back to some sense of normalcy and give our patrons even more options for outdoor activities and dining," she explained.
At Towson City Center, which sits prominently at 1 Olympic Place on the circle in downtown Towson, Senior Property Manager Julio Purcell is excited about the new restaurant which will open in the summer of 2021 as Perennial. "They've completely redesigned, and significantly expanded, the patio to capitalize on people's desire to enjoy the outdoors," Purcell explained. "In addition to the casual seating on the patio, which has been expanded and rearranged, patrons now have the option to sit in the expansive outdoor bar area. They've created a garden-like setting complete with gorgeous planters, flowers, and shrubbery," he added. Purcell noted that Cunningham's Café is still open on the lower level, with a new covering that will protect diners from sun or rain. "I love these added outdoor dining and gathering options, and our tenants love them, because they give the whole building a more festive atmosphere. Most importantly, they mean we'll be able to welcome the community back and give them more options to enjoy the outdoors. And that's clearly something the community wants."
About MacKenzie Management Company
MacKenzie is the largest third-party property management firm in Maryland, providing services to nearly 250 clients. With a portfolio of more than 9 million square feet, we are experts in building value for all types of assets including office, medical, retail, flex, and warehouse. Our comprehensive services include financial planning and reporting, cash flow and capital expenditure projections, building inspections and life safety programs, tenant retention strategies, vendor contract negotiation, lease administration, maintenance staffing, and 24/7 on call emergency response. As owners ourselves, we are uniquely qualified to bring an investor's perspective to our management process.