How We Navigate Potential Schedule Delays with Material Delivery and Permitting Times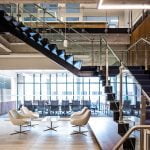 Given today's delays with manufacturing and permitting processes, contractors have to find new ways to navigate construction scheduling. While unforeseen events of the past year have contributed to increased material pricing and project delays, there are methods that the MacKenzie Contracting professionals employ to maneuver these potential barriers and consult clients on best practices.
Marty Copsey, President/COO & Principal of MacKenzie Contracting Company, details ways you can expedite the scheduling process as much as possible through increased communication efforts and quick decision-making.
Order Material as Soon as Possible
Transparency around knowing what materials are needed, and how long they will take to arrive, is key. Copsey notes, "We make owners and tenants aware early on in the process that material lead times are running 'X' weeks." Understanding these time frames in the early stages of the scheduling process equips your team with the knowledge needed to make first steps and better define their timelines.
"We encourage our clients to release us to order materials as soon as possible to avoid prolonged delays," Copsey says regarding the first steps of the process. "If lead times appear to be a schedule impact, along with the architect or design firm, we will look for similar materials that can be obtained sooner."
Work With a Permit Expeditor
"The time frame to obtain a building permit will vary from jurisdiction to jurisdiction," Copsey notes. While these time frames are not set in stone, hiring a permit expeditor can help accelerate the process.
Regarding this decision, Copsey says, "hiring a permit expeditor can help, mainly because an experienced permit expeditor will know the correct documentation to fill out and the right plans reviewers to speak with in order to keep the process moving forward." Failure to check these items off your list early on, or failure to handle them correctly, can cause further delay in the process. Consult with our Project Managers to learn more about the expedition process.
Keep Your Team Informed
In any process like this, the best way to handle any delays is to keep the owner or tenant up to date and communicate where you are at all times. Like Copsey states, "good or bad news, it needs to be out there."
Ultimately, communication is paramount in each stage of the construction process and keeping your team informed on what is running smoothly, as well as where you are forecasting delays, is the best way to maintain relationships with owners and tenants.  
Work With MacKenzie Contracting
The Mid-Atlantic region, like all regions of the United States, has experienced increased pricing on materials, scheduling delays, material backlogs and the like. Many of these issues can be mitigated by working with a team of experienced contracting professionals who know the ins-and-outs of navigating the current climate.
With projects in Maryland, Washington D.C., Delaware and Southern Pennsylvania, the team at MacKenzie Contracting is here to lend a hand. Our Project Managers can help you expedite the process as much as possible, find the most accessible materials available, and ensure each "T" is crossed and "I" is dotted on the necessary paperwork. To schedule a meeting with a member of our Contracting team, call 410-296-8081 today.