MacKenzie Capital Welcomes New Analyst Jack Ward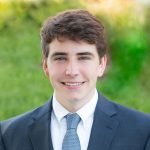 MacKenzie Capital, LLC is pleased to announce that Jack Ward has joined their team as an Analyst. Working from the firm's Lutherville office, Jack will partner with MacKenzie Capital President John Black and Vice President Brendan Harman to support the team's growing portfolio of business throughout the Mid-Atlantic and Southeast Regions. Jack will work to support the team in the underwriting of real estate projects and focus on the ever-changing and growing database of capital providers.
Jack is a graduate of Towson University where he majored in Financial Economics and minored in Business Administration. During college, he held internships with notable firms JPB Partners in Columbia and Atapco Properties, Inc. in Baltimore. Through the internships, he gained experience with evaluating individual assets and portfolios, underwriting acquisitions, budgeting and analysis, and financial modeling. A Baltimore native, Jack is a graduate of McDonogh School.
"MacKenzie Capital's platform continues to grow and expand in the commercial real estate capitalization and investment field," stated Black. "I'm excited to have Jack join us and assist Brendan and me with ongoing and future opportunities."
MacKenzie Capital, LLC is a real estate capital advisory firm that commerc­­­ial real estate owners, developers, and investors rely on for their debt, equity, and project financing needs.  Our creative, hands-on, and client-focused approach to capital advisory ensures that our clients are getting the most effective financing for their project in the current market.  For decades, our team of experienced advisors has successfully arranged financing for small and large projects of all property types throughout the country. MacKenzie Capital is an affiliate of Maryland-based MacKenzie Companies, one of the Mid-Atlantic's largest independently owned full-service commercial real estate firms.
For more information about MacKenzie Capital's offerings, please visit www.mackenziecommercial.com, or contact John Black at jblack@mackenziecommercial.com or 410.494.6652; or, Brendan Harman at bharman@mackenziecommercial.com or 410.494.6656.
###
MacKenzie Ventures, LLC (MacKenzie) possesses the multi-disciplined team necessary to excel in Maryland's corporate real estate community. Comprising six firms, MacKenzie provides clients a competitive, full service platform of offerings in leasing, sales, investments, tenant and landlord advisory services, development, general construction, property and asset management, debt and equity capital placement, and location intelligence.  With more than 225 employees and offices in Annapolis, Baltimore, Bel Air, Columbia, and Lutherville, Maryland, MacKenzie is one of the largest full service commercial real estate firms in the Mid-Atlantic. Please visit www.mackenziecommercial.com for more information.