MacKenzie Brokers Five Industrial Sales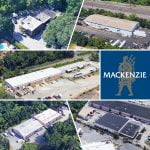 MacKenzie Commercial Real Estate Services, LLC is pleased to announce the recent sale of five Industrial Outside Storage (IOS)  properties throughout the Baltimore Metropolitan region. Ranging from 6,000 square feet to nearly -40,000 square feet in building area, each offering  the ability for outside storage, a sought-after commodity in today's industrial market. MacKenzie Senior Vice President/Principal Andrew Meeder and Senior Vice President/Principal Daniel Hudak represented the sellers in each of the transactions noted below.
7600 Rolling Mill Road:  38,200 sf industrial warehouse building situated on 7.6 acres
1020-1030 Batavia Farms Road:  32,000 sf industrial warehouse building situated on 14.84 acres
2116 Monumental Avenue:  10,900 sf flex/warehouse building situated on 2.86 acres
2606 Willow Avenue:  6,108 sf flex building situated on 0.90 acres
4204 Shannon Drive:  29,300 sf industrial warehouse building situated on 1.64 acres
"While each property had unique characteristics, they all had industrial zoning that allowed for outside storage making them attractive to varying user types," stated Meeder. "The industrial outside storage (IOS) market has seen rapid growth with an extremely strong demand for storage yards which allow for heavy industrial uses such as contractor yards and truck and vehicle storage. We enjoyed working with each of the owners, helping them to achieve their property's full potential in today's market."
For more information on MacKenzie's full-service offerings, please visit www.mackenziecommercial.com. For industrial sales or leasing inquiries, contact Andrew Meeder at ameeder@mackenziecommercial.com or 410.494.4881; or, Daniel Hudak, SIOR at dhudak@mackenziecommercial.com or 443.573.3205.
###
MacKenzie Ventures, LLC (MacKenzie) possesses the multi-disciplined team necessary to excel in Maryland's corporate real estate community. Comprising six firms, MacKenzie provides clients a competitive, full service platform of offerings in leasing, sales, investments, tenant and landlord advisory services, development, general construction, property and asset management, debt and equity capital placement, and location intelligence.  With more than 225 employees and offices in Annapolis, Baltimore, Bel Air, Columbia, and Lutherville, Maryland, MacKenzie is one of the largest full service commercial real estate firms in the Mid-Atlantic. Please visit www.mackenziecommercial.com for more information.