MacKenzie Brokers Sale of Two Real Estate-Owned Properties on Behalf of FVCBank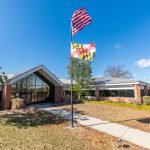 Assets include medical office building in Cecil County and industrial building in Northern Virginia 
MacKenzie Commercial Real Estate Services, LLC has brokered the sale of two distressed properties on behalf of FVCbank, a financial institution with offices throughout the Virginia and Maryland area, for more than $6 million, combined. The assets consisted of 101 Chesapeake Boulevard, a 30,400 square foot medical office building in Cecil County, Maryland and a real-estate owned (REO) property located at 3850 Jermantown Road, a 38,600 square foot flex/industrial building situated in Northern Virginia. Sean Langford and Chris Walsh, both Vice Presidents for MacKenzie Commercial Real Estate Services, represented the bank in both transactions.
Local investment group Red Leaf Development Company acquired 101 Chesapeake Boulevard, which is contained within the Upper Chesapeake Corporate Center in Elkton. The free-standing medical office building is situated at the intersection of E. Pulaski Highway (US Route 40) and Chesapeake Boulevard. More than 30,000 vehicles pass the site on a daily basis.
Virginia-based NovaLabs, a non-profit group which provides education and community-based services including youth programs, acquired 3850 Jermantown Road and intends to retrofit the building into a makerspace facility. The site will offer woodworking, laser cutting, metalworking, blacksmithing, jewelry making and arts and crafts programs upon its opening later this year. John Sabo of Berkshire Hathaway Pen Fed Realty, LLC represented NovaLabs.
"Although the pace of foreclosures has slowed significantly over the past year, financial institutions are still in need of professional marketing and sales support to remove certain assets from its balance sheet in a timely fashion," explained Sean Langford of MacKenzie Commercial Real Estate Services. "Our team successfully showcased both assets to potential end-users and investors and concluded transactions that satisfied the needs of FVCbank.  This process was expedited based on our deep relationships in the brokerage and real estate development communities, combined with our familiarity with the specific submarkets in which these assets are located."
"The team at MacKenzie stepped in during one of the more challenging real estate markets due to COVID and assisted the bank with a quick and timely disposition of these two distressed assets," explained Michael Nassy, Executive Vice President and Chief Credit Officer for FVCbank.
MacKenzie Commercial Real Estate Services is the real estate brokerage arm of The MacKenzie Companies, which operates six full-service divisions addressing all real estate asset classes including MacKenzie Management Company, LLC, MacKenzie Contracting Company, LLC, MacKenzie Capital, LLC, MacKenzie Investment Group and Datastory Consulting. The company provides customized real estate solutions for institutional owners, investors, private companies and individuals. For additional information, visit www.mackenziecommercial.com