Healthcare Provider AbsoluteCare Relocating Headquarters and 30 Employees from Baltimore City to Columbia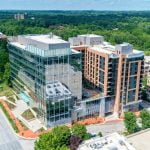 MacKenzie Commercial Real Estate Services brokers 12,712-square-foot lease at 10175 Little Patuxent Parkway, a nine-story, 165,000-square-foot building overlooking the Columbia lakefront    
AbsoluteCare, an integrated healthcare provider that operates throughout the country, including two healthcare centers in Maryland, is relocating its current headquarters on Park Avenue in Baltimore City to a 12,712-square-foot space overlooking the Columbia lakefront in the Columbia Town Center section of Howard County. The space at 10175 Little Patuxent Parkway (also known as Little Patuxent Square), is a nine-story, 165,000-square-feet Class A office building owned by LPP Investors, LLC. It is scheduled to open next month. Hayes Merkert, Adam Nachlas, Chris Bennett and Allison Perry of MacKenzie Commercial Real Estate Services, LLC, represented the landlord and Gary Applestein of JLL represented the tenant in this transaction.
Founded in Atlanta in 2000, AbsoluteCare provides a healthcare model that focuses on the delivery of services to the most vulnerable and chronically ill populations. The provider takes a holistic and wrap-around  approach to each member, with an emphasis on understanding and solving the underlying challenges faced by each individual. These include behavioral health issues, substance abuse, and the socio-economic conditions -known as social determinants of health – that affect their overall health. AbsoluteCare currently operates in Atlanta, New Orleans, Philadelphia, and the Greenbelt section of Prince George's County.  As a rapidly expanding organization, the Company will announce the opening of a new location this summer, with additional expansions planned for 2022 and 2023. The company relocated its headquarters from Atlanta to Baltimore in 2013.
"Our mission is to restore our members to optimal health through our whole-person, interdisciplinary care approach. Our diverse teams of clinicians address not only medical care but behavioral health, nutrition, substance use, pharmacology, and more," said Mike Radu, AbsoluteCare's Chief Executive Officer.  "Because environmental factors play such a central role in our members' recovery and rehabilitation, we invest considerable time and energy into finding them a safe place to sleep, providing them with medicine, and helping them get food, clothing, and other necessities – even a cellphone."
When considering a new corporate headquarters, AbsoluteCare favored a more central location for its employees and the important members they serve, according to Radu. "Columbia's proximity to Baltimore, Northern Virginia, Washington, DC., and a major airport will make travel easy for our out-of-town employees. We hope the location and amenities will also attract new talent."
Developed in 2017, 10175 Little Patuxent Parkway features 9-foot ceilings, typical floor sizes of approximately 16,000 square feet, on-site covered free parking and a state-of-the-art fitness center. The floor-to-ceiling glass windows offer views of downtown Columbia and Lake Kittamaqundi. GrillMarx Steakhouse & Raw Bar is on the first floor. The Mall in Columbia is directly across the street, and numerous restaurant and shopping amenities are within walking distance, including Whole Foods Market.
"Columbia Town Center continues to attract corporate headquarters users based on its suburban location, central placement within the Baltimore-Washington corridor, walkable amenities and outdoor recreational opportunities and placemaking elements which provide benefits to employees," said Hayes Merkert of MacKenzie Commercial Real Estate Services. "AbsoluteCare's move from Baltimore City to Howard County continues the trend among companies seeking areas that offer lower densities, shorter commutes and free parking. The larger floorplates found in suburban areas also enable companies to design and execute same-floor tenant buildouts, which improves employee collaboration and productivity."
MacKenzie Commercial Real Estate Services is the real estate brokerage arm of The MacKenzie Companies, which operates six full-service divisions addressing all real estate asset classes, including MacKenzie Management Company, LLC, MacKenzie Contracting Company, LLC, MacKenzie Capital, LLC, MacKenzie Investment Group and Datastory Consulting. The company provides customized real estate solutions for institutional owners, investors, private companies and individuals. For additional information, visit www.mackenziecommercial.com