Liquidity Aleworks Pouring New Life into 1930s Era Former Bank on Historic Main Street area of Mount Airy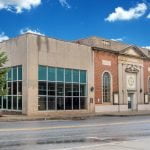 New brewery promising "something for everyone" expected to open in 5500 square foot space this May     
LUTHERVILLE, MD (March 14, 2022) – Liquidity Aleworks, a new craft brewery founded by partners Ray Tignall and Billy Deavers, has chosen Prospect Mill, a 5,500 square foot free-standing building located in the Main Street area of Mount Airy, Maryland as the site of its manufacturing operations and taproom. The structure, constructed in the 1930s, was last used by Farmers & Merchants Bank as a branch banking office more than 20 years ago. Liquidity Aleworks is expected to open in May and will employ approximately 15 full and part-time workers when all hiring is complete. Dennis Boyle and Chris Walsh, both Vice Presidents of MacKenzie Commercial Real Estate Services, LLC represented the landlord, Catonsville Homes.
Located at 8 N. Main Street, the site first contained a building utilized by Jones & Co. Bankers and, later, The First National Bank, in the early 1900s before being destroyed by a fire in 1914. After being rebuilt, the replacement structure was also consumed and totally lost to a fire in 1925 before a fire-proof building was constructed in the 1930s. It also housed the Mt. Airy Building & Loan Association, before relocating to across the street. Two years ago, a volunteer-based group initiated efforts to revitalize the building and the surrounding acreage for community-based activities.
"Given the building's use by three different financial institutions and its local recognition as a long-time bank, we felt it was important to preserve this legacy by incorporating a banking term into the name of our new brewery," explained Ray Tignall. "Liquidity seemed to fit the bill given the fact that the best assets are liquid, which has also become the tagline of our brewery," he added. He further explained that he and Deavers have honed their craft by home brewing beer for many years before deciding to venture into a full-fledged brewery. A long-time Sykesville resident, Tignall has long had his eye on the Prospect Mill building given its iconic architecture, surrounding acreage and placement at the virtual center of the downtown Main Street corridor.
Tignall promises an inclusive environment at Liquidity Aleworks that will offer "something for everyone" with a rolling menu of seasonal beer varieties and seltzers to suit every taste – from pilsner to India Pale Ale to porters and stouts. "Billy and I continue to invent new flavors because we constantly want to introduce concepts that are innovating and exciting. While we want consumers to identify their favorites, we also want them to leave their comfort zone and experiment with things that are different."
Liquidity Aleworks will also be equipped with an outside grounds and patio area to host special events and beer tastings. "With limited brewery options in area, we believe our location will draw consumers from several neighboring counties as well as the suburbs of Washington, D.C. based on our proximity to Interstate 70 and 270," added Tignall. "The officials and community of Mt. Airy have been incredibly supportive and helpful and this will help us get off to a running and successful start this spring. Breweries generally evolve into community gathering spots and that is our goal for Liquidity Aleworks."
Assistance from State of Maryland's Main Street Revitalization Program
Liquidity Aleworks received assistance in the form of a State of Maryland Project Restore grant award, according to Dennis Boyle of MacKenzie Commercial Real Estate Services. "Ownership investment will exceed more than $1 million to retrofit this building and transform it into a viable brewery operation, so this program provides welcome support to Liquidity Aleworks," he stated. "The brewery will become a major attraction and strong economic development generator for Carroll County and the town of Mt. Airy and, we believe, will stimulate more businesses to relocate to the Main Street area. The craft brewing industry in Maryland received a shot in the arm after regulations were relaxed several years ago to allow higher production volume. Since then, new breweries have opened across the state and have become centerpieces in their respective communities."
"Landing Liquidity Aleworks is a jackpot for the entire Mt. Airy Community," explained Melissa Thorn, Director of Community Development and Main Street Manager for the town of Mt. Airy. "We consistently invest a lot of heart into our Main Street each year and it remain among the biggest focus of our town. The State of Maryland recognizes what we're trying to accomplish with revitalization efforts and community event and we appreciate their support. We've been fortunate to run a Façade Improvement Program and work with property owners and businesses to restore many of the commercial properties downtown. This historic building has been the talk of the town since the former use left more than 20 years ago.  We believe the brewery will have a tremendously-positive impact on bringing visitors from all over the mid-Atlantic region to our town to experience the brews and our smalltown flavor."
Nearly 20,000 people reside within a three-mile radius of 8 N. Main Street, including approximately 6,000 households with an average annual household income approaching $145,000.
MacKenzie Commercial Real Estate Services is the real estate brokerage arm of The MacKenzie Companies, which operates six full-service divisions addressing all real estate asset classes including MacKenzie Management Company, LLC, MacKenzie Contracting Company, LLC, MacKenzie Capital, LLC, MacKenzie Investment Group and Datastory Consulting. The company provides customized real estate solutions for institutional owners, investors, private companies and individuals. For additional information, visit www.mackenziecommercial.com.