Wealth Management Firm WMS Partners Announces Expansion into new 19,538 sf Space in Towson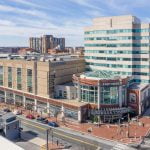 MacKenzie Commercial Real Estate Services oversees real estate search and brokers transaction that will relocate approximately 80 employees to 10-story, 330,000 square foot office tower situated in downtown    
Wealth management firm WMS Partners, LLC. has announced its intentions to relocate its corporate offices to One West Pennsylvania Avenue, a 10-story, 330,000 square foot office tower situated the downtown Towson section of Baltimore County. The group signed a lease with Towson Commons G&O, LLC for 19,538 square feet of space and plans to relocate approximately 80 employees to the commercial office portion of Towson Commons by this fall. WMS Partners is moving from nearby 1 Olympic Place which it has occupied for more than 11 years. Joe Bradley, Senior Vice President and Principal for MacKenzie Commercial Real Estate Services represented WMS Partners in this transaction.
"Continuous client referrals have quickly accelerated our growth and our offices were quite literally bursting at the seams, with just one unoccupied space," explained Laura Carr, Chief Operating Officer for WMS Partners. "We love the vibrancy and convenience of downtown Towson and we didn't want to stray too far, because our clients also enjoy the environment and central location. But, because we were in the market for approximately 50% more space, our options were somewhat limited. This process actually began pre-COVID and we really didn't know what the office space world would end up looking like.
"The new space also satisfied our priority of situating our entire team on the same floor, which will improve communication and overall synergy," Carr added. "An added bonus was the natural sunlight that is available to nearly every section of the offices, which is a proven ingredient that contributes to the health of employees. This building provides us a springboard into the future and allows for additional growth. Because it is located only two blocks from our former space, both our employees and clients don't have to change their driving habits and learn the nuances of a new area. In essence, we have the best of both worlds."
Founded in 1993, WMS Partners lists assets totaling approximately $5.7 billion as of 12/31/21, a figure which has nearly doubled since 2017. The "family office" firm provides a wide range of wealth planning and investing services in both public and private markets, while also offering trust and estate planning and help with insurance coverage, forming tax strategies, cash-flow management and risk management. The group also operates a location in the Columbia section of Howard County.
Towson Commons is a mixed-use project anchored by LA Fitness featuring 115,000 square feet of retail space, nearly 900 dedicated parking spaces and a location adjacent to Whole Foods Market. The office building is within walking distance to the Baltimore County Courthouse and a variety of sit-down and fast-casual restaurants.
"It was important for WMS Partners to remain in the downtown Towson area, but felt it was also time to modernize and refresh the office layout as a tool to attract and retain talent," explained Joe Bradley of MacKenzie Commercial Real Estate Services. One West Pennsylvania Avenue emerged as the best option given its best-in-class exterior and interior appearance, large and open floorplan and the on-site and walkable accessibility to amenities. Downtown Towson offers a high-energy outdoor environment and streetscape that is extremely inviting to both employees and visitors."
MacKenzie Commercial Real Estate Services is the real estate brokerage arm of The MacKenzie Companies, which operates six full-service divisions addressing all real estate asset classes including MacKenzie Management Company, LLC, MacKenzie Contracting Company, LLC, MacKenzie Capital, LLC, MacKenzie Investment Group and Datastory Consulting. The company provides customized real estate solutions for institutional owners, investors, private companies and individuals. For additional information, visit www.mackenziecommercial.com