Following Sale of Baltimore County Building, Veteran Broker Explains Why 2023 May Present the Perfect Storm Scenario to Shed Office Assets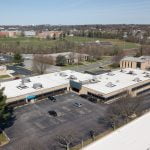 "Confluence of higher interest rates, elevated tenant improvement costs and continuation of remote work model placing downward pressure on pricing," says Owen Rouse of MacKenzie Commercial Real Estate Services
Following the recent sale of 6340 Security Boulevard in the Woodlawn section of Baltimore County for $5 million, Owen Rouse, Vice President of MacKenzie Commercial Real Estate Services, LLC, indicates that 2023 is shaping up as the ideal time for owners and investors to consider shedding certain commercial office assets. The 100% leased property, which includes tenants such as Accenture, Friendly Finance and Perfect Office Solutions was acquired by a local investment group led by Sam Tenenbaum. Rouse, in collaboration with Allison Perry, Real Estate Advisor; Hayes Merkert, Senior Vice President and Adam Nachlas, Senior Vice President of MacKenzie Commercial Real Estate Services represented the seller, Woodlawn MD III FGF, LLC and procured the buyer in this sales transaction.
"The confluence of higher interest rates, elevated tenant improvement costs and the continuation of the remote and hybrid work models has created a perfect storm scenario that, collectively, is placing downward pressure on commercial office pricing," explained Owen Rouse of MacKenzie. "Commercial real estate decisions are being delayed due to business and economic uncertainty, and the cost of doing business across the board is rising. For these reasons and more, we are recommending that commercial owners and investors engage in a property-by-property and region-by-region analysis of existing assets to determine if a disposition  represents an appropriate strategy for the upcoming year. Many of the decisions will be based on the strength of the particular submarket, the long-term viability and financial resiliency of existing tenants and the prospect of upcoming renewals."
6340 Security Boulevard is a two-story building comprised of just over 60,000 square feet of commercial office space. The asset is situated directly across from the headquarters of the Social Security Administration at the intersection of Security Boulevard and Gwynn Oak Avenue, with an exit of the Baltimore Beltway (Interstate 695) less than one minute away. Downtown Baltimore City can be accessed in less than nine miles and Towson is approximately 11 miles from the site.
"The good news is that leasing activity in the suburban submarkets has been relatively consistent throughout 2022, in part due to companies relocating from high density urban areas or opening a second office in the suburbs in a hub-and-spoke work arrangement," Rouse continued. "Employees are offering its workforce complete flexibility with regard to where and when they work but, over the long term, we believe the  traditional work environment will rebound with an increased emphasis on workplace culture, mentorship and collaboration.
"Commercial real estate is and will always be highly cyclical in nature and owners and investors need to consider all present and future scenarios in their decision-making process. We are seeing definitive trends among companies choosing amenity-rich commercial office environments, as well as a flight-to-quality. Well-maintained assets contained in infill locations with a strong tenant roster are still hard to come by, and there will always be a strong demand for these properties as capital also remains plentiful," Rouse concluded.
MacKenzie Commercial Real Estate Services is the real estate brokerage arm of The MacKenzie Companies, which operates six full-service divisions addressing all real estate asset classes including MacKenzie Management Company, LLC, MacKenzie Contracting Company, LLC, MacKenzie Capital, LLC, MacKenzie Investment Group and Datastory Consulting. The company provides customized real estate solutions for institutional owners, investors, private companies and individuals. For additional information, visit www.mackenziecommercial.com